Best Buddies Jobs: Anne Johnson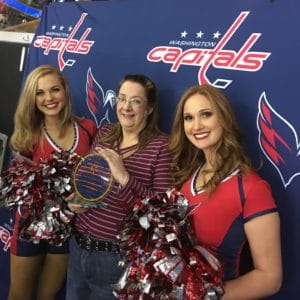 On January 19, Best Buddies Jobs participant and Ambassador Anne Johnson, Operations Representative at Accenture Federal Services, was honored by Washington Capitals and Walmart's Community Playmaker Program, which gives thanks to members in the community who are dedicated to improving the lives of others and being a force for good.
Anne's work as an Ambassador for Best Buddies, and for everyone with intellectual and developmental disabilities, was highlighted, and she was given four suite tickets to the Washington Capitals vs Montreal Canadiens game, as well as a $100 Walmart gift card. We are grateful to Anne for championing our Jobs and Ambassadors programs and are thrilled her hard work was recognized in such a wonderful way.