Recovering From Hurricane Harvey: Anna and Sam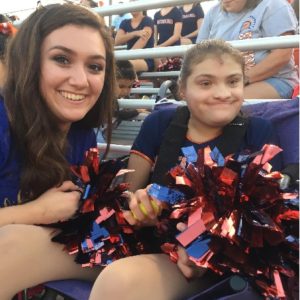 Anna Fedewa, CP at Seven Lakes HS, was working on clean up, like most Houstonians, after Harvey made landfall a few weeks back when she received a phone call from a chapter officer that was volunteering at one of the local shelters Sunday in their area.
During the phone call, Anna learned that Sam, a Buddy in the SLHS BB Chapter, had checked-in to the shelter with her family after being evacuated from their flooded home.
Showing true leadership, Anna and her father went to pick up Sam and her family from the shelter and took them home. They have spent the weeks since working to clean up the damaged home and helping Sam and so many others prepare to return to school. Although Anna and Sam are not officially matched with each other in the Best Buddies program, we want to thank them for demonstrating how something as simple as friendship can change lives.
Anna and Sam were honored by the Sugarland Skeeters Saturday, September 16. They were asked to throw out the first pitch for Superhero Jersey Night, benefiting Best Buddies Texas.