Meet the North Texas Advisory Board: Rand Huguely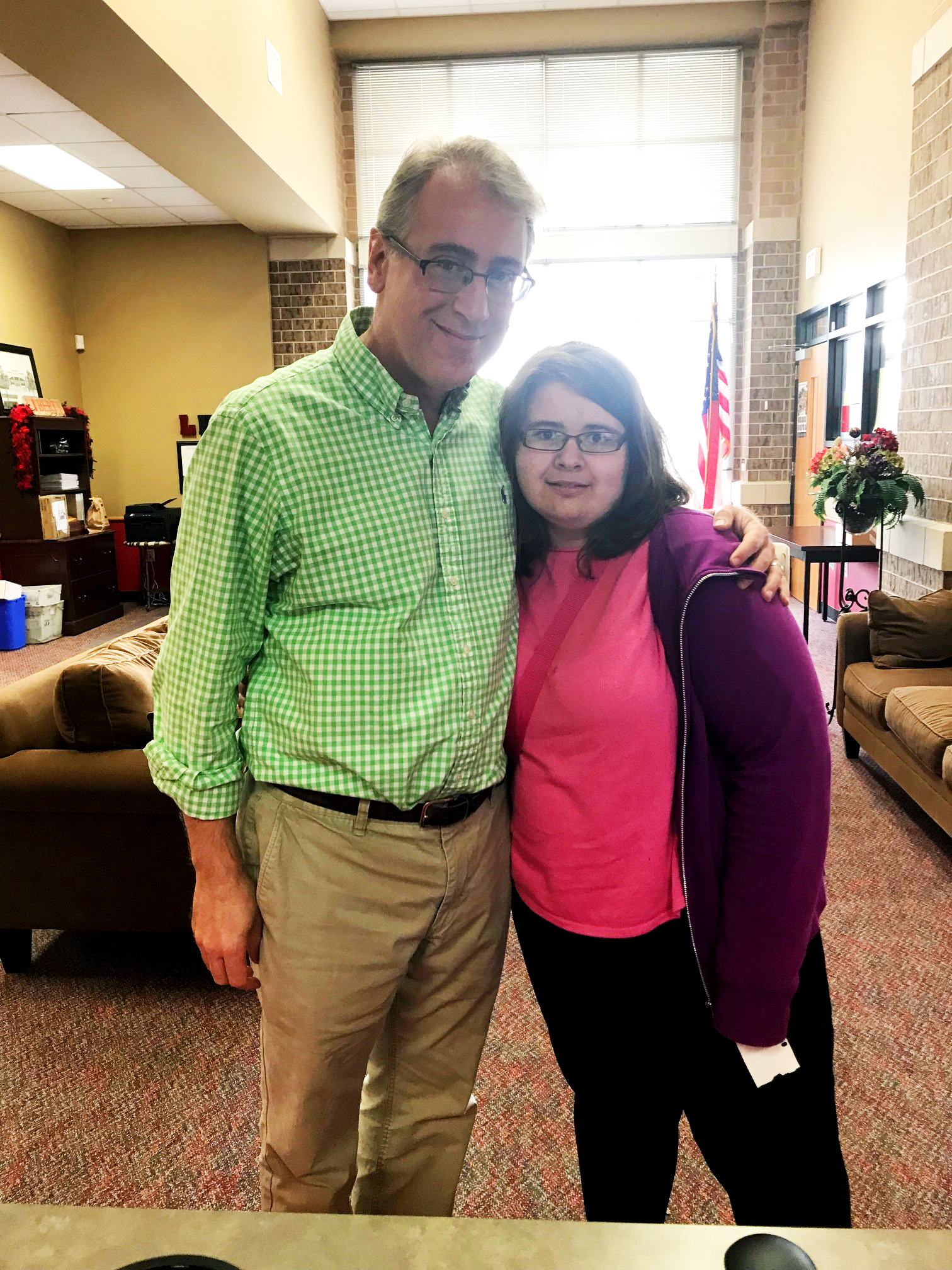 Get to know the North Texas Best Buddies Advisory Board Chair, Rand Huguely!
Rand is an attorney specializing in the Golf and Hospitality industry. He is a partner in the firm of Henslee, Huguely & Klontz and serves as General Counsel for American Golf Corporation. Originally from Nashville, Tennessee, he loves all sports and once worked as a sportscaster before attending law school at Vanderbilt University. Rand also has deep interests in music, movies, and history. He lives with his wife Andrea and daughters Carinna and Caroline in Frisco, Texas.
What was your first experience with Best Buddies?
"My daughter Carinna has Autism, and the high school she was zoned to did not have a strong Functional Academics program, and she was struggling both academically and socially. Frisco ISD suggested that she move to Liberty High School for her sophomore year. At Liberty, she discovered an active, thriving Best Buddies chapter, which had a huge positive impact on her life. The confidence and joy she gained by making lasting friendships through Best Buddies resulted in her finding happiness at Liberty, where she became the first Functional Academics student to wear an honor cord at Graduation ceremonies in 2018."
Why did you decide to get involved with the North Texas Advisory Board?
"In the Summer of 2018, Carinna had the opportunity to attend the Best Buddies Leadership Conference in Indiana. During the preparatory meeting that the Best Buddies staff held in Frisco for students and parents prior to the Conference, I asked a staff member if there were options for Carinna to continue participating as a buddy, even though she had graduated. The staff member explained to me that some states have "Citizen Chapters" for people like Carinna who don't have access to a school chapter. However, she mentioned that Texas did not have a Citizens Chapter and so I volunteered to help out in getting one started. That led to me being invited to join the Board."
What is your favorite memory associated with Best Buddies?
"When Carinna went to Leadership Conference, she was on her own for the whole weekend, so my younger daughter and I spent the weekend in Indianapolis "just in case" something went wrong or she needed me for some reason. But she so loved the independence of being on campus and the camaraderie with the other buddies and peer buddies, that we were worried for nothing. All of the other attendees from our area took Carinna under her wing and she felt so included and special. When I texted her to see how it was going, she responded, 'I'm busy Dad, gotta go!' Staff members sent me a video of her Ambassador Speech at the conference where she told the group that her pet Guinea Pig was named Ginny "because, you know, she's a Guinea Pig," and got a great laugh from the audience.
What is one goal you have while serving on the Advisory Board?
"My original goal was of course to get a Citizens Chapter started, which the team has been able to do through our great Junior Advisory Board. My current goal is to make sure we are really communicating with the parents of buddies who are currently in the school chapter, to make sure they are aware of all the opportunities for their kids through Best Buddies once they graduate. When Carinna was at Liberty, I didn't know that Best Buddies also had a Jobs program. Parents should know that Best Buddies is there for them long after high school or college ends."
What is one fun fact about yourself you'd like to share?
"Well, you know how 'fun' lawyers can be, I'm just a barrel of laughs really. So I don't know if I have a 'fun fact.' My parents were actors and entertainers and I grew up traveling around from theatre to theatre in different cities when I was very young. My father appeared on Broadway, had a no. 1 Country hit with a novelty/comedy CB radio song in the mid-'70s, and eventually was a staff writer for the show Magnum, P.I. So my childhood certainly gave me a unique perspective and understanding of the world."
Stay tuned as we introduce more Board Members in the coming weeks! To learn more and get involved with Best Buddies in Texas, visit bestbuddies.org/texas.