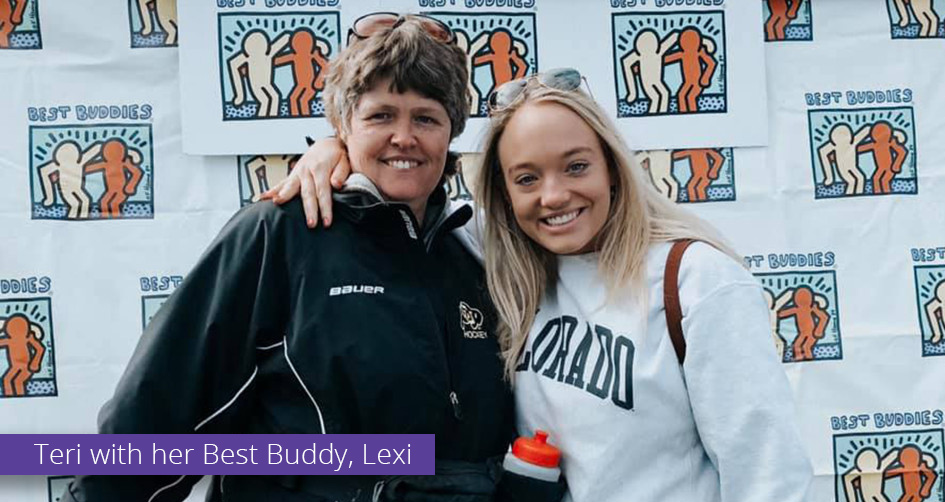 Buddies for Teri
The Teri Leiker Memorial Fund
Creating A Living Legacy in Colorado
The Best Buddies family recently heard the devastating news that the life of Best Buddies participant, Teri Leiker, was one of 10 claimed in the recent senseless and horrific act of violence that occurred in Boulder, Colorado. Teri participated in Best Buddies for 11 years and was deeply loved by her friends in the Best Buddies chapter at the University of Colorado Boulder.
We are devastated and heartbroken over the loss of Teri and the other nine victims. The power of love and friendship is a gift that Teri gave to her friends in Best Buddies and we are eternally grateful for her commitment to our organization's mission of friendship and inclusion. Teri embodied the true spirit of Best Buddies, for which she will be profoundly missed.
With approval from her family, we established Buddies for Teri to assist with the financial needs that are a result of this tragedy. Board Member Ralph Winter agreed to chair the Buddies for Teri fundraising campaign with a goal of $59,000 and kicked off the campaign with a leadership gift of $10,000. In less than a week, supported by our Board and Staff, we reached this goal for Teri and her family.
Now we are committed to creating a living legacy for Teri by raising an additional $150,000 as the first step in funding a new Best Buddies satellite office in Boulder, Colorado. This office, named in Teri's honor, will support the Boulder special needs community by expanding the jobs and friendship programs Teri loved so much.
To support this initiative click here.
Ralph Winter
Melissa Ganzi
Stephen & Barbara Hearst
Tom Sullivan
Jeffrey Rich
Tom Quick
Mark DeVincentis
Ron Book
James Lintott
Tamsen Fadal
Alexander Dessauer
Anthony Shriver
Gerard Klingman
Jeffrey Rich
Bernie Yuman
Christine Vanden Beukel
Patrick Kennedy
Gerard Klingman
Ron Book
Tamsen Fadal
Benjamin Winans
Senator Lauren Book
Lisa Lutoff-Perlo
Brad Blank
Catherine Anne Hennessy
Evan Hainey
Senator Lauren Book
Robert Friedman
Eunice Shriver
Michael Hardman
Keith Lowey
James Hintlian
Mia Mulholland
John Carlin
Maria Valle
Wanda Williams
Maria Sherwood
Michael Bothwell
Michael & Geena Mattox
Maddie Sherwood
Mabel Perez
Jeremiah Angel
Corey Yugler
Kevin Hartnett
Belinda Solis
Andrea Tessaro
William Maurer
Heidi Kalinowski
Melissa Collins
Omaar Yemini
Kath Bettencourt
Heather Gray
Joey Shriver
Rhonda Gdasi-Lopez
Courteney Fitzgerald
Sophie Dubuisson
Kathleen Kelly
Lindsay Jewett
Nubia Hung
Nicol Maddox
Kathy DiRusso
Alyssa Stump
Alexa Levy
Sunny Smith
Caroline Tyson
Ellie Redmond
Mitch O'Meara
Kelly Gardner