Memphis Celebrates Friendship at 2017 Best Buddies Prom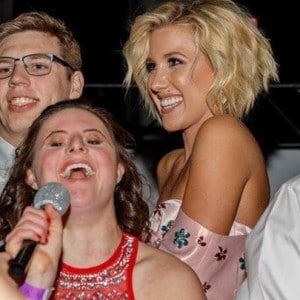 The 2017 Best Buddies Prom in Memphis presented by Agricenter International, Delta Fair and Musical Festival, & Hicks Convention Services and Events was BIGGER and BETTER than ever!
Featuring over 550 students, 300 parents, 70 VIP guests, 80 volunteers and special celebrity appearances – it was an unforgettable evening. The party kicked-off as students with and without disabilities walked the red carpet together amid the excitement and flashing lights of our prom "paparazzi".
A surprise appearance by Savannah Chrisley from USA Network's hit TV show Chrisley Knows Best stunned attendees, and Brandi Cyrus from BRAVO's upcoming reality series Cyrus vs. Cyrus kept the fun rolling as she sang-a-long with students to Miley's #1 hit, "Party in the U.S.A."
A night filled with laughter, dancing, singing and smiles – our prom serves to ensure all individuals receive the opportunity to experience this memorable teenage milestone. And the best part is… even though the party is over, the friendships last forever.