Buddy Spotlight: Morgan Tibbens Attends National Pageant in Chicago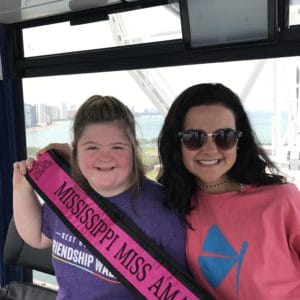 Morgan Tibbens is a participant in Best Buddies' School Friendship Program at Lewisburg High School where she has formed an undeniable bond with her buddy, Taylor. This past year, Morgan achieved local fame when she was crowned "Miss Amazing Teen Mississippi", the state title to a national pageant that focuses on the strengths and abilities of women with IDD.
Being the reigning Miss Amazing Teen Mississippi definitely has its perks… Morgan was asked to say the pledge of allegiance for "New Teacher Orientation" for all Desoto County Schools, she made an appearance on Local Memphis Live at 9 on ABC News 24, and attended several events with various beauty queens and titleholders across the Mid-South.
The highlight of Morgan's year was the chance to represent her great state in the "National Miss Amazing Pageant" this past July in Chicago, Illinois. With this being her first trip to the "Windy City," Morgan decided to set aside her first day of sight-seeing. She visited the Sears building, went on a city-wide bus and boat tour, and was even able to attend the "Special Olympics Ducky Derby!"
On her second day, it was back to business. A day filled with contestant check-ins and orientation, Morgan had the time of her life meeting new friends from all over the country. Following a quick talent rehearsal, the contestants were whisked back to their rooms to get ready for the evening's gala and dance party!
Days three and four were all about the competition. Morgan competed in a personal interview where she was able to talk about her love of Blake Shelton, Mississippi State, and her popular bath bomb business. Morgan looked stunning in the evening gown competition and blew the audience away with her dance routine to "Can't Stop the Feeling" from the Trolls movie soundtrack.
We are so proud of you, Morgan. Thank you for representing us all so well in Chicago!