Best Buddies Prom: Nashville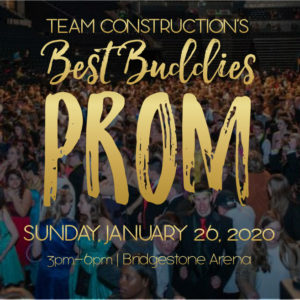 Sunday, January 26, 2020
3-6 PM
Bridgestone Arena
501 Broadway
Nashville, TN 37203

Best Buddies Prom… it's kind of a big deal. It's the day that every Buddy Pair across Tennessee looks forward to all year long – and for good reason. It's an enormous party where every single guest gets the five-star treatment!
From the outward appearance, it may seem like any other Prom. But a closer look shows something much more meaningful. On this special day, over 2,000 teens and young adults with and without intellectual disabilities laugh, dance, sing and have fun together.
There's no judgment, ridicule, bullying or isolation. Just PURE JOY. Everyone is welcome, and everyone is equal. It's a snapshot of true friendships between individuals of all abilities. And once the party's over, the friendships last forever. That's a pretty big deal.
Please contact MissyNaff@bestbuddies.org or (615) 891-2046 with any questions you may have.
Registration is now closed.