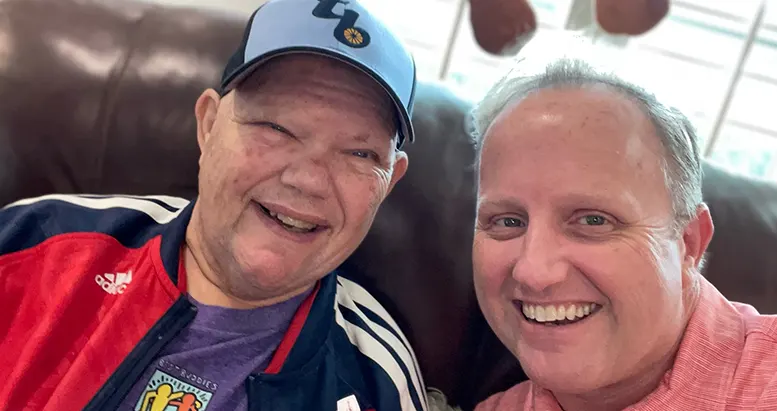 Ken Holden Buddy Sports Memorial Fund
Ken Holden, an incredible and passionate advocate for the inclusion movement and longtime volunteer for Best Buddies, passed away Monday, September 5, 2022.
Ken was an active participant in many of the programs of Best Buddies International for more than 26 years and served as the very first participant matched in the e-Buddies program with his buddy, Ted Leonsis, who he emailed with daily for more than 25 years. Ken was an avid fan of all sports and enjoyed cheering on his favorite teams like the Washington Capitals, Dallas Cowboys, Tampa Bay Buccaneers, the USF Bulls, Washington Wizards, and the Tampa Bay Lightning. Ken also worked as a volunteer at Hunter's Green Elementary school in special education classes for over 20 years and was nominated as volunteer of the year in 2003 in the Hillsborough County School District for his outstanding service to the school.
He cherished his role as a loving uncle, brother, and dedicated family member. He enjoyed charming the world with his beautiful smile, joy for life, and faithfulness to God. Ken was an incredible prayer warrior for everyone and loved volunteering as part of the Special Connections Ministry at St. James United Methodist Church as well as singing in the JOYS Choir and the Portico Choir.
We at Best Buddies are filled with so much gratitude for the incredible life he lived every single day. We are so happy to continue Ken's passion for friendship and sports by creating the Ken Holden Buddy Sports Memorial Fund, where donations will go towards providing opportunities for Best Buddies to go to sporting events and games together, in honor of Ken and the passion he had for both sports and kindness through friendship.
Please honor Ken by cheering on your favorite sports team, listening to your favorite inspirational song and offering a smile or warm welcome to a stranger. Be kind to each other. That's what Ken always embraced each day.