Walker of the Week: Ashley Sammons, The Chapter Advisor Walker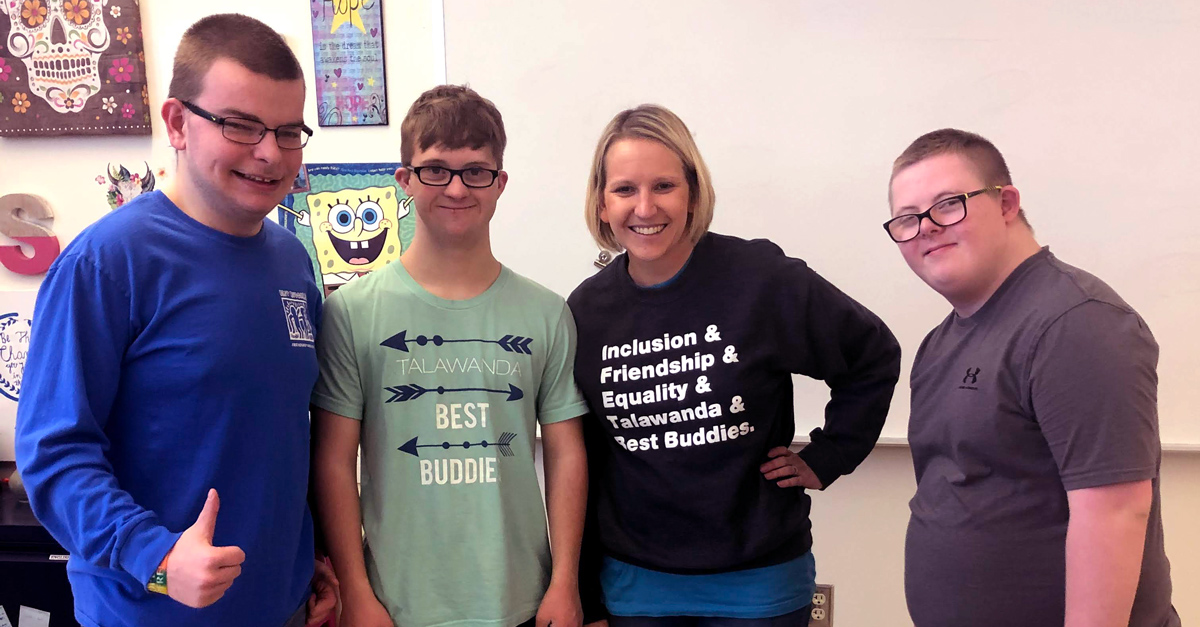 Ashley Sammons is the chapter advisor at Talawanda High School in Oxford, Ohio. She has been involved in Best Buddies for four years. Ashley works as a high school English teacher at Talawanda High School, but she is also certified in special education and as a reading specialist. One of the best classes that Ashley has been able to teach was a public speaking course for students with disabilities. Ashley has a daughter in third grade, a son in kindergarten, and a one-year-old at home. She also is a huge advocate for adopting shelter pets and has two dogs and cats.
What does inclusion mean to you?
To me, inclusion means that everyone has opportunities to be happy, successful, and part of a group where they feel accepted for who they are. Since I teach high school, inclusion at the high school level means that students have the opportunity to participate in the high school experience, which may include sports, classes with their peers, dances, and extracurriculars. Inclusion has always been an important part of my teaching ideals, but Best Buddies helps make our school more inclusive for all students.
When did you first get involved with Best Buddies and why?
Initially, I wasn't the faculty advisor for our school's Best Buddies chapter, but I was in charge of planning an inclusive spring dance for students. My principal asked me to plan a dance after he heard about another school with a similar event. The dance was supposed to be an inclusive event for students who may not have felt comfortable at the much bigger dances like homecoming and prom. We partnered with the community and Miami University Best Buddies to put on the inaugural event. After that event, Miami University helped start a chapter at our high school, but another teacher was the advisor in the first year. She moved after the first year and asked me to take over the club. Saying yes was the best decision I have made as a teacher. Being the advisor has been the highlight of my career. I get to work with the best students and families as a result of Best Buddies!
Who was your first buddy match and/or what is your favorite memory from Best Buddies?
I have lots of amazing memories with Best Buddies. I think one of my favorite memories with Best Buddies is our annual trick-or-treating event. The club members trick-or-treat through the hallways after school and teachers pass out candy to everyone. Students love the event and it is always one with lots of participation. Another highlight was attending the Best Buddies Leadership Conference with our former chapter president. Connecting with our clubs and meeting so many people who loved Best Buddies was a great experience! I have also really enjoyed working with our chapter's leadership teams. The students are always so hardworking and motivated to make our club awesome!
Why are you participating in the Best Buddies Friendship Walk this year?
I am participating in the Best Buddies Friendship Walk this year because it is one way I can come together with students to spread the message of inclusion at my school. I love having Best Buddies at our school and I want to continue being the faculty advisor for our school's chapter for many years to come!
Do you have any advice for others looking to get involved?
I think everyone should consider joining Best Buddies or signing up to walk. It is a great way to meet new people and have fun at the same time. Best Buddies is so welcoming and has so many opportunities!
You can join Ashley and more than 200 people across Ohio by participating or donating to the Best Buddies Friendship Walk at bestbuddiesfriendshipwalk.org/ohio.