Meet the Harshaw Family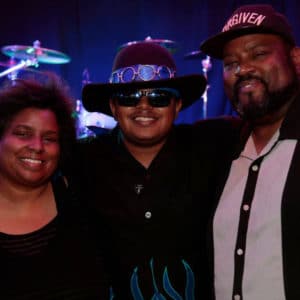 By: Emily Callahan, 2019 Summer Fellow
Zayne Harshaw has made a name for himself in the Columbus music community as the guitarist for the band, Blue Spectrum.
Blue Spectrum is a band composed of five individuals, the band came together in January of 2013 in the hopes of creating and performing music, as well as exemplifying its motto, "life is not meant to be viewed through the single lens of a diagnosis but to be lived through the Spectrum of potential, promise, and purpose."
Blue Spectrum band members include Amelia Rose, Alan Jefferson, Clarence Bowles, and Cliff Marsh. Being a part of a band has always been a dream of Zayne's since he first discovered his musical talent.
Zayne was diagnosed with Autism at the age of four, which his mother, Gwen Harshaw, describes as a "scary time," as various doctors told them that he would not be able to read or form any sort of emotional connection with other individuals.
It was 10 years later, at the age of 14, when Zayne asked for his first guitar; his parents did not how transformative this simple question would be saying that they gifted him with this guitar out of his love for the game "Guitar Hero." They were not expecting the talent and life changes that would come two years later after this simple question.
Zayne is a self-taught guitarist; for two years he practiced by himself alone in his room, before showcasing his talent, afraid of potential embarrassment. "He taught himself to play alone in his room in the dark because he didn't want people to see, he was scared to be embarrassed," his dad, Gene Harshaw.
With neither of his parents being musicians, it took a guitar teacher telling the Harshaws that Zayne had "perfect pitch" before they truly understood his talent.
"When you've been told bad news so many times, its hard to imagine the word 'perfect' being used to described him," his father explained.
A multitude of individuals around the state of Ohio have recognized his talent, as Zane has played at a variety of events and Open Mic Nights in Columbus, and even playing at conferences across the country.
"We don't doubt him anymore, he has taught us to embrace doubt," the Harshaws explained, "he talks about playing all over the world, he's made me into a believer."
However, something the Harshaw family wants everyone to know is that Zayne is focused on continuously learning and evolving as a person and a guitarist, with his personal evolution comes from his involvement with Best Buddies Ohio.
The Harshaw family first became involved with Best Buddies in 2015, attending a variety of Best Buddies events throughout the year, including the annual Friendship Walk, where Zayne was able to play the National Anthem.
Zayne was given a friendship match with Courtney Caldwell, a student at The Ohio State University, which allowed Zayne to make a social and emotional connection, something his parents believe is crucial for the special needs community.
"Life in the special needs community is on the sidelines, but life is not meant to be viewed, its meant to be lived," Gene expressed. Having a one-to-one friendship through Best Buddies has allowed Zayne to become more involved socially, and develop an emotional connection that he was once told he could never achieve.
However, Zayne's parents express that the impact of Best Buddies goes beyond that of friendship, and has provided them with a multitude of other ways to become involved and expand Zayne's skillset.
Despite the confidence he shows while playing the guitar, Zayne still struggles with his public speaking and finds help in developing his confidence in public speaking through the Best Buddies Ambassador Trainings.
"The Ambassador Training has been wonderful," Gwen stated. "We are currently working with Zayne regarding public speaking," she continued, "as comfortable as he is playing the guitar in front of an audience, he had some anxiety with public speaking."
His confidence has grown these trainings and has correlated to his impact as a musician. For a kid who was told that he would never be able to form any emotional connections, Zayne provides an emotional experience for all of those who hear him play. "He connects the music to his soul, an emotional bridge he uses to connect everyone," his parents explained.
"His ability is not just playing but capturing the overall essence of a song," his father stated, emphasizing how he plays a song the way an artist intends a song to play. Gene continued on to say, "he plays with so much confidence because he is operating within his gift."
What has been the most transformative for the family about Zayne is how others view him, saying that what people see when he plays his guitar is not his disability, but about all of his ability.
About Blue Spectrum: Check out this band at one of their upcoming shows! Visit: http://bluespectrumband.com/ to see dates and times.