Meet Alex Rogers – Ohio State University
Leadership Development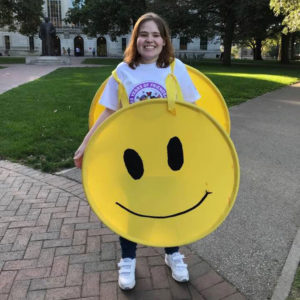 Growing up with a disability is hard. It is frustrating, and it is lonely. These feelings were a large part of my life before joining Best Buddies. Though I always had the support of my family, I had very little interaction with my peers outside of our home.
That all changed when I joined Best Buddies at the Ohio State University four years ago. I quickly hit it off with my buddy Jessica, and we started to do all kinds of fun things together. Our one-on-one experience has been great, but I have really loved being part of a larger group. When I heard about the opportunity to become an Ambassador for Best Buddies Ohio, I knew I would be successful, both for myself and for Best Buddies!
I spend a lot of my spare time writing, so I was excited to get some practice writing speeches. I've never been too shy in front of a crowd, but the support of Best Buddies really helped me gain the confidence needed to be an advocate for people with IDD. Since my first Ambassador training, Best Buddies has given me so many opportunities to be a leader. I helped lead a webinar for the Spread the Word to End the Word campaign, served as a Campaign Manager for the Best Buddies Ohio Champion of the Year Gala and spoke in front of almost 300 people at the Ohio COY Gala in 2018. I plan to attend the Best Buddies International Leadership Conference in July of 2018 and I couldn't be more excited!
Being a Best Buddies Ambassador is something that has become very important to me. I believe in standing up for what's right; part of that is being an advocate for people with IDD who don't have the opportunity to use their voice. This is a huge part of my own personal mission. As I said, growing up with a disability is hard, but having the chance to be part of a program like Best Buddies has made my transition into adulthood so much easier.
I love Best Buddies, and I hope more people across Ohio will have the chance to make connections like I have. Thank you for letting me share my story and thank you for supporting this organization!