Join e-Buddies today!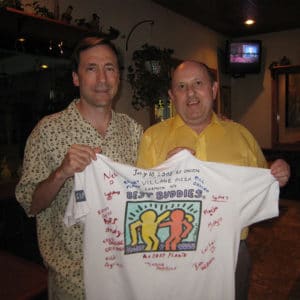 By: Catlin Layton, State Director, Ohio
Last month, I heard from Bill and was lucky enough to hear his story about how he has been in the Best Buddies e-buddies program for nineteen years! While they have stretched beyond a traditional e-buddies match as they have actually visited each other in person, I had to share their story. I hope you will consider joining this program too. I have been connected to my buddy for about four months now and it is great to share a connection with somebody! I didn't realize that having a pen pal would be so much fun!
From Bill, "I have been an e-Buddy since April 2000, connected to Robert Plante of Hanover, New Hampshire since then. It has been a wonderful and rewarding experience for both of us, and we still email and converse several times a week. Robert is an amazing individual and a tireless supporter of Cystic Fibrosis, and helps host an annual walkathon and 5K run every year in the Upper Valley. I have gone and participated in person twice!"
Bill resides in Ohio and is one of 27 participants from our state involved in e-buddies. This is an e-mail pen pal program that provides safe opportunities for one-to-one e-mail friendships between people with and without intellectual and developmental disabilities (IDD). Fifty-four percent (54%) of Members with IDD revealed that they feel more confident engaging in other online social outlets as a result of their participation in e-Buddies.  Computers are an integral part of modern society, providing access to an abundance of social and creative outlets. By participating in e-Buddies, members develop technology literacy skills and become more confident in communicating online, opening up opportunities for higher-level education and employment.
Visit: www.bestbuddies.org/what-we-do/ebuddies/ or e-mail ohio@bestbuddies.org for more information on how to join!