Cincinnati Reds Star, Derek Dietrich, Makes a New Friend Through Best Buddies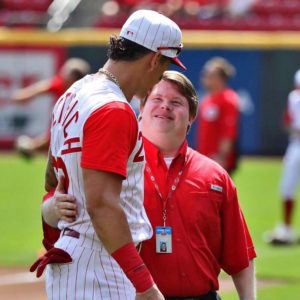 Cincinnati, OH
September 9, 2019
Best Buddies International, a nonprofit dedicated to creating opportunities for friendship, employment, leadership development and inclusive living for people with intellectual and developmental disabilities (IDD), is excited to announce that Derek Dietrich of Major League Baseball's Cincinnati Reds has been paired with his new best buddy Teddy Kremer through the organization's Citizens program. The duo made the official announcement on Sunday, September 8th when Kremer threw out the first pitch to Dietrich prior to the Reds vs. Arizona Diamondbacks game at Great American Ball Park.
The Best Buddies Citizens program supports the development of friendships between adults with and without IDD in corporate and civic communities. Many people with IDD have limited opportunities for social interactions after they leave the school environment. This program helps individuals with disabilities become part of mainstream society and creates an inclusive and diverse community for all. To date, Derek and Teddy are one of two Citizens buddy pairs within the state of Ohio.
"I have supported Best Buddies for many years and when I found out that they were still growing in Ohio, I knew exactly how I wanted to plug in to my new home and show others the great work and mission of this organization," said Derek Dietrich. "I hope by becoming a program participant myself that other Ohioans will join me in participating and supporting friendship, leadership, jobs, and inclusive living for people with intellectual and developmental disabilities in Ohio."
"Best Buddies is beyond grateful for Derek's passion and commitment to serving as an advocate for individuals with intellectual and developmental disabilities over the years," said Catlin Layton, State Director of Best Buddies in Ohio. Since relocating to Ohio, he has continued to raise funds and awareness for our programs through sales of his "Let it Fly" shirt sold at Cincy Shirts. Derek's dedication and leadership in stepping up to serve as one of our program participants shows his tremendous commitment to Best Buddies and his new community. We are thrilled to work with him to make our schools, workplaces, and communities throughout Ohio more inclusive for those with intellectual and developmental disabilities.
Kremer and Dietrich were matched because they both share a love of baseball. Kremer, a die-hard Reds fan, has been the batboy for the Reds since 2012 when his parents won the opportunity at a raffle. He was invited back and was even honored by having his very own bobble head.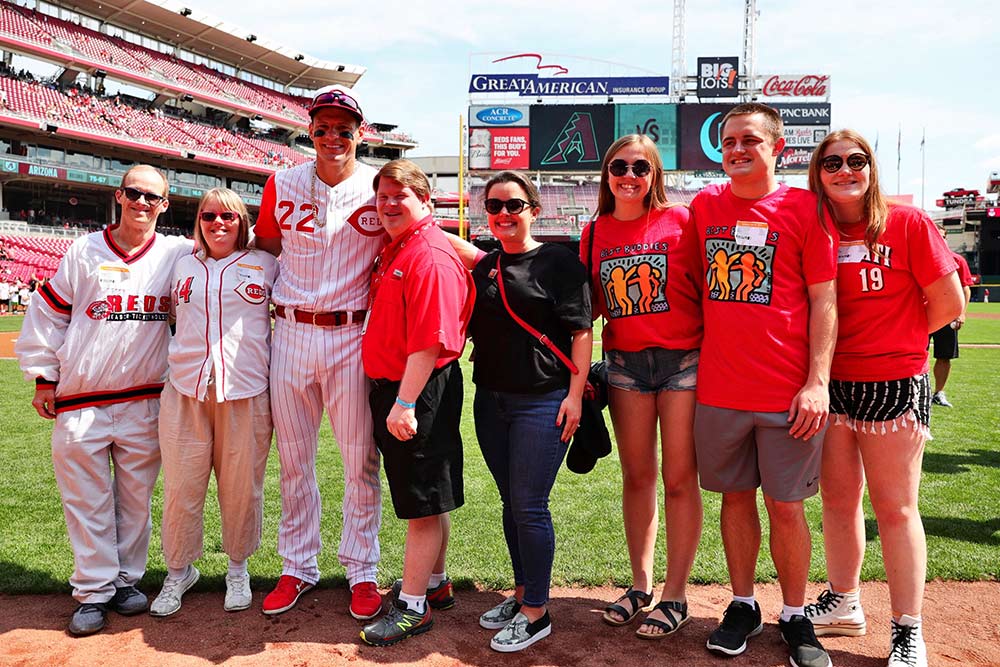 To learn more about Best Buddies in Ohio, please visit: www.bestbuddies.org/ohio
ABOUT BEST BUDDIES INTERNATIONAL: Best Buddies® is a nonprofit 501(c)(3) organization dedicated to establishing a global volunteer movement that creates opportunities for one-to-one friendships, integrated employment, leadership development and inclusive living for people with intellectual and developmental disabilities. Founded in 1989 by Anthony K. Shriver, Best Buddies is a vibrant organization that has grown from one original chapter to nearly 2,900 middle school, high school, and college chapters worldwide. Today, Best Buddies' nine formal programs — Middle Schools, High Schools, Colleges, Citizens, e-Buddies® , Jobs, Ambassadors, NEWS Promoters and Inclusive Living — engage participants in each of the 50 states and in 54 countries, positively impacting the lives of over 1.25 million people with and without disabilities around the world. In many cases, as a result of their involvement with Best Buddies, people with intellectual and developmental disabilities secure rewarding jobs, live on their own, become inspirational leaders, and make lifelong friendships. For more information, please visit www.bestbuddies.org, www.facebook.com/bestbuddies or www.twitter.com/bestbuddies.
Contact Information:
Best Buddies Ohio:
Catlin Layton, State Director
614.928.3383
CatlinLayton@bestbuddies.org
BESTBUDDIES.ORG/OHIO