North Carolina Passes The Torch at the 28th Annual Best Buddies Leadership Conference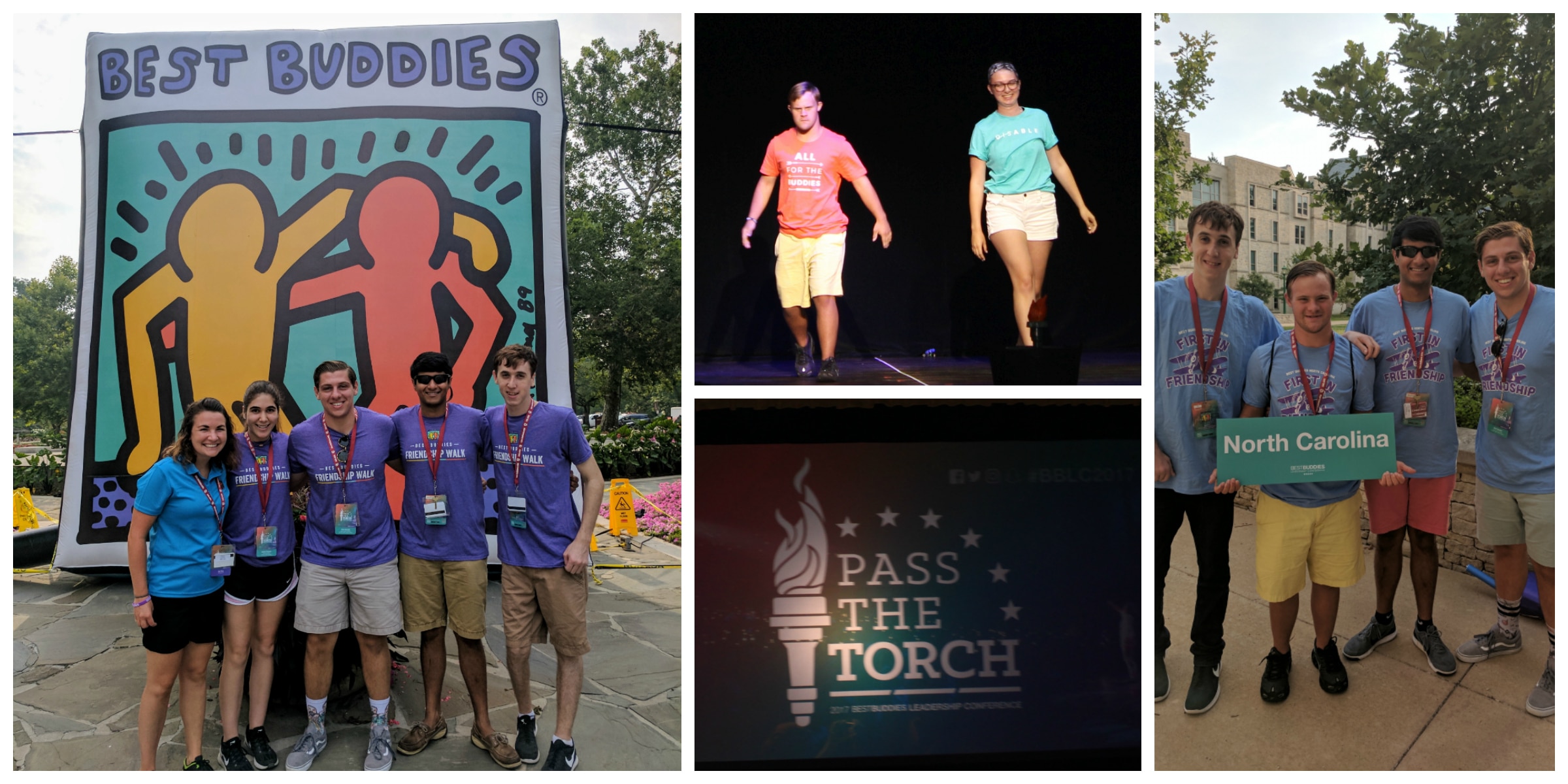 "The Best Buddies Leadership Conference afforded me a unique opportunity to network and learn from my peers in the community who are also involved with Best Buddies. In addition, I was able to hear from numerous influential voices who are on the front lines of the battle for the due rights of those with intellectual or developmental disabilities.  These experiences enabled me to emerge with a new perspective on Best Buddies and the role that I play. I will definitely take the knowledge gained to UNC in order to make a lasting impact on the Best Buddies Community in Chapel Hill." – Ashish Khanchandani, UNC Chapel Hill
Best Buddies brought its first official North Carolina delegation to the 28th Annual Best Buddies Leadership Conference on July 21-24! We had a small, but mighty group of student leaders from the University of North Carolina – Chapel Hill, Wake Forest University, Duke University, as well as our newest chapters at High Point University and Myers Park High School. Many jokes were exchanged throughout conference regarding our ability to fly under the radar (made even funnier by the planes on our state shirts).
The conference kicked off Friday with Opening Ceremonies held at Indiana University Auditorium. Incredible speeches from Megan Bomgaars of Born this Way, Lauren Potter of Glee, and performances from Marlana VanHoose, Mikayla Holmgren, and Lisa Smith were well-received by the attendees. ReVoiced celebrated the Best Buddies mission by premiering their new music video "I Luv Me" showcasing our mission!
Clay Medlock attended the conference on behalf of Myers Park High School where he will be serving as the Buddy Director this fall! Clay represented BBNC's enthusiasm perfectly with his performance in the Best Buddies fashion show during Opening Ceremonies! Check out the full video of this inspiring kick-off below.
Everyone met Saturday morning in the auditorium. Kevin Wanzer taught us to ALOHA – choose to Act, Love, Ohana & HA laugh! Anastasia Samoza shared her story as a disability advocate, which began at the young age of 9 when she spoke to President Bill Clinton about inclusive schooling for her twin sister. Marc Mero spoke as a Champion of Choices and the difference they make in our lives! The day also included classroom sessions focused specifically on Leadership & Legacy as well as workshops on different ways to enhance and strengthen our Best Buddies clubs. You can check out the Education Sessions in the video below. North Carolina also spent time idea sharing with our classroom partner, Best Buddies Wisconsin. Saturday night we met for a Friendship Walk across campus and had a blast until the storms started. It was incredible to watch everyone roll with the punches and spend the evening getting to know each other as we waited for shuttles back to our dorms!
Sunday we returned to the auditorium for Best Buddies Talks from inspirational speakers from throughout the country! Along with more classroom learning, our student leaders engaged in World Café. The World Café mixes up Best Buddies participants from around the world to discuss important questions aligned with the conference goals of learning, leadership, and legacy. The weekend was a whirlwind, in the best way, so it was hard to believe that we were already wrapping things up at Closing Ceremonies! We've said it a lot, but this event was incredible! Check it out Closing Ceremonies, below.
This year's conference theme was "Pass the Torch" and focused training on the disability rights movement, effective leadership strategies, and how to build chapters for a strong and sustainable legacy. We had the opportunity to share ideas, meet people involved with Best Buddies from around the world, and most importantly, make lasting friendships. Ashish, Rob, Claire, Jake, and Clay will forever be the group bonded together as North Carolina's first in friendship!