Mikayla & Brenda: UNC Best Buddies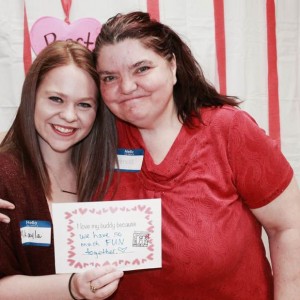 Mikayla is a member of the executive board for UNC Best Buddies this year. Mikayla's mom worked with children with intellectual and developmental disabilities and Mikayla has helped out around her classroom all her life. When she started at UNC she learned about Best Buddies and absolutely loved its mission and everything it stands for, and knew it would be a great way for her to continue working with persons with IDD so she joined her first week of college!
When applying to be in UNC Best Buddies, you fill out a little questionnaire and meet with one of the executive board members for an interview so the executive board can get a better feel for you and your personality, allowing them to match peer buddies up with the perfect community buddy. This process led Mikayla to be matched with Brenda. Mikayla shared "Brenda and I are one in the same. We love all the same foods, we're both obsessed with Disney movies, we love doing all sorts of things ranging from painting one another's nails to going for a walk around campus. We never run out of things to talk about!"
Mikayla and Brenda have been matched for three years now and experienced a lot together as friends. Mikayla wrote this in her February friendship update (along with stories of sharing cheese fries and Valentine's fun with Brenda): "It never ceases to amaze me how kind and polite Brenda is to everyone, including me. We've been together for three years now, and she still always makes sure she says thank you to me even when I do the smallest little things for her when in reality, I should be the one thanking her for the love and friendship she has given me for the last 3 years." Although Mikayla is graduating this spring, the two plan to remain in touch moving forward. The friendship they made in Best Buddies is something they will have with them for the rest of their lives.
We want to foster more friendships like that of Mikayla and Brenda here in North Carolina! That is why Best Buddies North Carolina hopes to open ten new chapters for the 2017-18 school year.
Interested in bringing Best Buddies to your school? We have Middle School, High School, and College friendship programs. Contact our Program Manager Izzi Tritz at izzitritz@bestbuddies.org for more information on starting a program at your school!