Meet Sami and Willie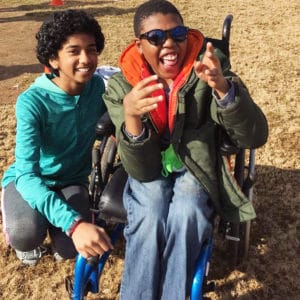 One-to-One Friendship
Sami and Willie are both sixth graders and were matched in October 2018. This was the first year of Best Buddies at Jay M Robinson Middle School. Their friendship strengthened quickly as the two spent a lot of time together at recess, Special Olympics events and during electives. Although Willie is mostly nonverbal, within a month of the match party he learned to call Sami by her name instead of just buddy.
A few words from Sami, on why she wanted to get involved with Best Buddies, how she feels about her experience in the program and the significance of her friendship with Willie.
"I got involved with Best Buddies because before the club started I used to give high-fives and say "Hi" to these kids and I loved doing it and felt happy to see them smiling and giving high-fives back to me. When the club started I knew it was my opportunity to be more involved and make a great friend.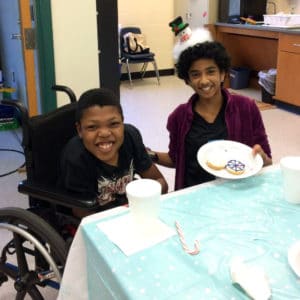 My buddy's name is Willie. We have been friends since October 2018. Willie and I love to go to recess together. He will always ask me to push his wheelchair faster and faster! Willie and I love being each other's friends because when we are together we have so much fun together.
Our friendship is a good representation of our chapter because our friendship is very mutual. Whenever we see each other Willie will yell my name with a big smile and I would call out to him right back. Willie and I have both impacted and changed each other's' lives for the better. All I can say is that we will be BFFs forever!!!!!!"
Allison Pemberton, Special Education advisor, started the program at Jay M Robinson to promote inclusion and friendship throughout the school.
"Sami and Willie are an exceptional buddy pair who are well known faces in the sixth grade hallway at Jay M Robinson Middle School. Sami has been an awesome peer buddy who has introduced Willie to a brand new circle of friends who embrace his exceptionality. Sami and Willie can often be seen together giving high fives to students and staff and playing basketball during outdoor activity time. Willie's face lights up whenever he sees Sami, he begins to clap and he will say 'Sami, Sami, Sami!'"