Meet Terence Moore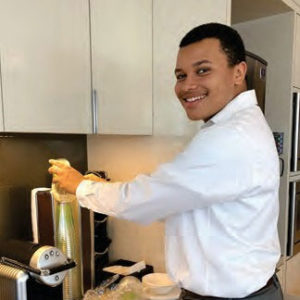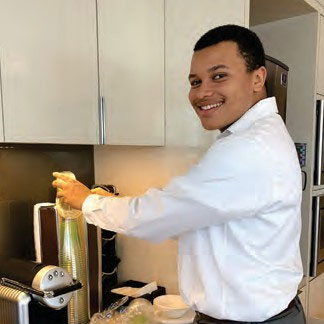 Integrated Employment
Terence joined Best Buddies Jobs in July of 2017. Prior to joining the program, Terence described his life as a "puzzle" as he began to "piece together" his transition into adulthood. He was initially interested in the retail industry and had an internship at the Burlington Coat Factory. However, when his professional interests shifted, he sought out Best Buddies Jobs. After meeting with the BBNY employment consultant he went to an interview at Crescent Capital and impressed them so much that they offered him employment! At his job, Terence is responsible for stocking the kitchens with food and drinks, managing the pantry and copy room, as well as assisting associates with printing and binding. Since starting to work, Terence has been focused on his professional goals of "stronger organization, planning, and communication skills."
Terence has been employed for over eight months and has gained more confidence in himself. Terence notes his life has "greatly improved" both professionally and personally.
"I am so happy with my life," he says. In particular, having a job has encouraged him to become more independent. At work, Terence manages his own checklist and strives to complete each task by the end of the day. He takes great pride in maintaining focus and accomplishing his tasks accurately. Not only has he gained experience in his organization and planning skills, but his communication skills have also improved. His employment consultant has noted that Terence has "become more accurate with organizing inventory and planning for the week". Terence's presence in the office has had a notably positive effect. He always greets each of his colleagues by name and with a big smile on his face. His co-workers are grateful for the positive attitude he brings to the office each day and they say they can always count on him to brighten their day.
As for future goals, Terence hopes to move from his family's home and live independently. He would like to build upon his character and become even more independent. Terence credits his job as improving "everything in life" for him!