Meet Alan Raskin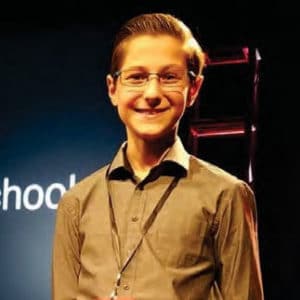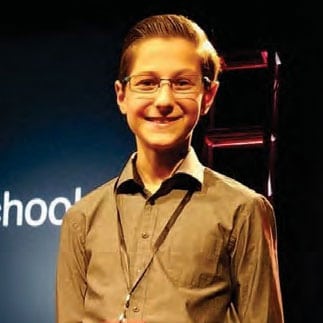 Leadership Development
Alan first joined Best Budies last year and quickly found a place where he knew he could fully and unapologetically be himself. This year Alan became Chapter President for his school, Calkins Road Middle School, and since taking the position, has stepped confidentially into his role. Since assuming the role of president, Alan has been quick to lead both his fellow students as well as opportunities of volunteering with Best Buddies.
Alan has taken advantage of the Ambassador Trainings held in Rochester where he learns new speech skills as well as aiding those with intellectual and developmental disabilities (IDD) in mastering their own speech abilities. It was evident from the get-go that Alan had a gift of communicating through his words and, over the last year, has honed that skill, which has translated in a number of opportunities to speak passion to hundreds of people. This past November, at Rochester's first Champion of the Year- Party with a Purpose, Alan delivered a speech to over 200 attendees in which he conveyed his desire for social inclusion and for working with students with intellectual and developmental disabilities.
One of Alan's greatest passions is seeing an end to bullying both in and out of the school for all students, but certainly those students with IDD. Alan's past experience with being bullied is what initially led him to continue with Best Buddies, as he saw it as a place where that did not exist and where love and friendship thrived. This desire for inclusion for all students is evident in every speech that Alan gives and is what led him to be invited to speak at an official TED Talk at a local Rochester school. What an awesome opportunity for someone not even in high school yet!
Alan has seen firsthand the impact Best Buddies has had on him and his school community.
In my short time I've been involved in Best Buddies it has completely transformed me. I was making new friends, having a more optimistic view on life and all students involved are benefiting from the program.
"The students with IDD in my school now walk the halls proud and confident of who they are, because they know that a strong and supporting group of people have their back!"
As he begins the transition process from middle to high school, Alan will accompany dozens of other students from the Western New York area to our Best Buddies Leadership Conference in Indiana as one of our few middle school representatives. There Alan will learn alongside hundreds of students across the world to develop new skills that he can bring to his high school. We are excited for Alan to continue his work of creating a place where students can escape the social frustrations of life and find love and friendship, the very same thing that kept Alan coming back.