May Connection Calendar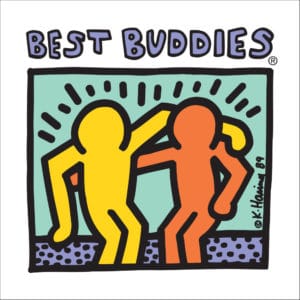 We have put together a Calendar of fun activities that you and your friends can do together virtually! Be sure to tag us @BestBuddiesNY and use the Hashtag #Distancingtogether on your Post so we can share them.
We look forward to seeing all of the creative things you are doing to stay connected. As always, Best Buddies staff is only a phone call or email away, so please don't hesitate to reach out to us with any ideas or concerns you might have as we all navigate this uncertain time in our world.
Best Buddies in New York
newyork@bestbuddies.org
(212) 220-8554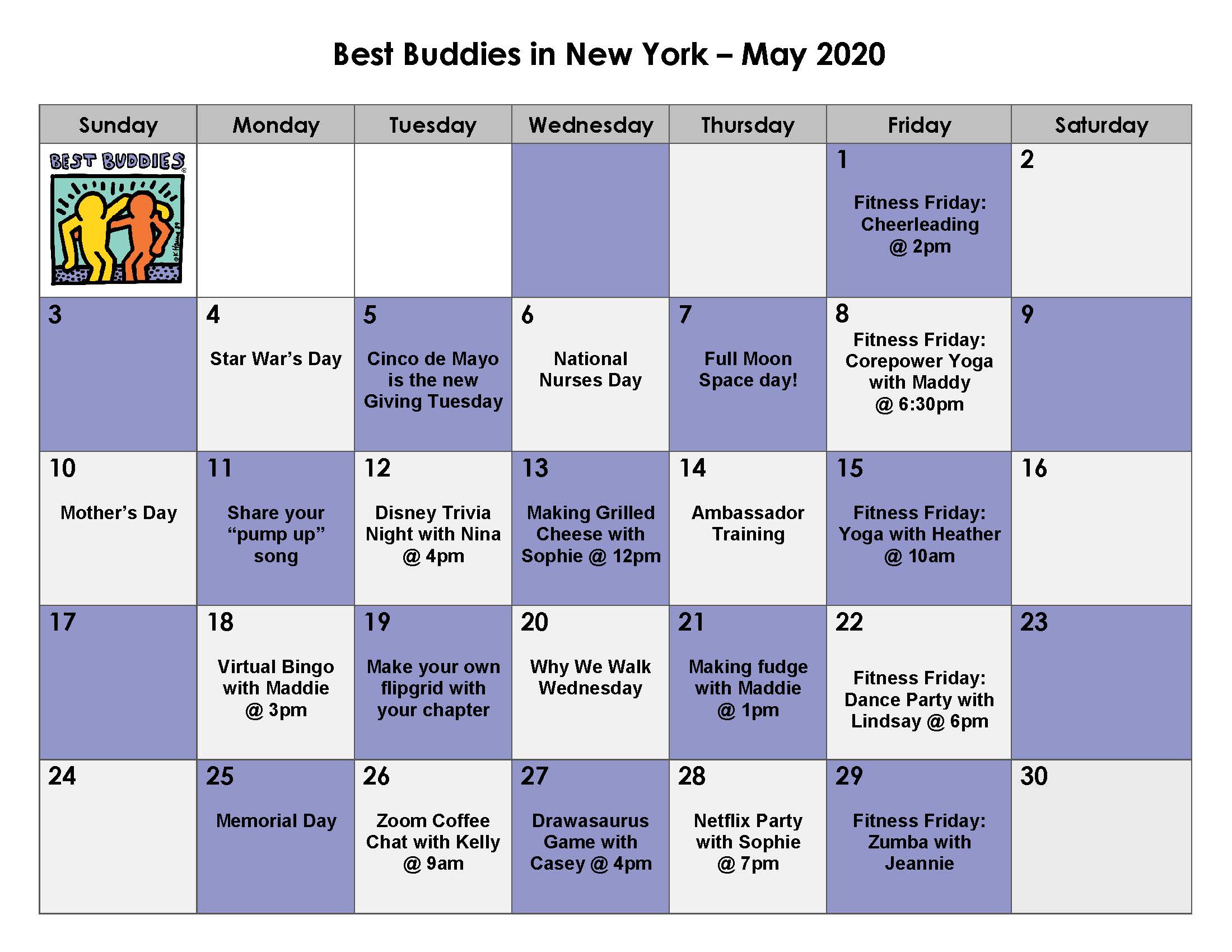 May 1st: Fitness Friday @ 2 PM
Cheerleading with Sophie, the Chapter President from Colonie High school! RSVP to NinaBenvenuto@bestbuddies.org for details and the zoom link!
Watch your favorite Star Wars Movie and Share your favorite quote from the movie with your buddy!
May 5th: Cinco de Mayo is the new giving Tuesday
To celebrate Cinco De Mayo (5/5), ask 5 people to donate $5 each to your Friendship Walk page!
May 6th: National Nurses Day
Show your appreciation to our nurses by either posting on social media, writing a thank you card, creating a sign to post in your yard, etc.
May 7th: Full Moon
In honor of the full moon, make your own Oreo moon phases find the full directions here.
May 8th: Fitness Friday @ 6:30 PM
Join CorePower yoga instructor, Maddy Horan, who will be joining us virtually all the way from Chicago to lead us in a Yoga Flow from 6:30- 7:30 pm EST. RSVP to SophieDubuisson@bestbuddies.org
May 18th: Virtual BINGO with Maddie,  3 PM–4 PM
Join Maddie for a game of virtual BINGO! RSVP to Maddie madelinesherwood@bestbuddies.org to attend.
May 19th: Make your own Flipgrid!
Make your own Flipgrid with your chapter and share on your Best Buddies social Media! Click here
May 20th: Why We Walk Wednesday
Only 1 month left until our Virtual Friendship Walk!
May 21st: Making fudge with Maddie @ 1 PM
Learn how to make fudge! Join Maddie as she teaches you how to make fudge. You will need to use the stove and a knife for this recipe, so parent supervision is required for younger participants! The ingredients you will need for this are: 1 can of sweetened condensed milk, I package semisweet chocolate chips, 1 square (ounce) unsweetened chocolate, and 1 tsp vanilla. RSVP to Maddie madelinesherwood@bestbuddies.org to attend.
May 22nd: Fitness Friday @ 6 PM
Zoom Dance Party with Lindsay 6-7 pm RSVP to Lindsayjewett@bestbuddies.org for the link!
May 25th: Memorial Day
A fun and easy way to say thanks is to write a thank-you letter to a veteran or current member of the armed forces. Whether it's your family member or someone you've never met, they will appreciate your kind words Support our troops makes it super easy to send a letter to men and women in the military. Find out more details – click here
May 26th: Zoom Coffee Chat with Kelly 9-9:30 am
Join Kelly for a morning Chat and time to catch up with friends from across the state. RSVP to Kellygardner@bestbuddies.org for the link.
May 27th: Drawasaurus Game with Casey at 4 PM
Join Casey for a fun game of Drawasaurus. RSVP to Caseyoconnor@bestbuddies.org for details.
May 28th: Netflix Party with Sophie @ 7 PM
Lets all "get together" and Watch Groundhogs Day on Netflix! RSVP to SophieDubuisson@bestbuddies.org for all of the details and how to get connected.
May 29th: Fitness Friday-Zumba with Jeannie
Join Jeannie as she leads us in a fun Zumba class to get us pumped up for the weekend! RSVP to Kellygardner@bestbuddies.org for the link or with any questions.