June Connection Calendar
June 2020
Online
Register Now
Zoom link and password will be sent out the day before each event.
Below is our Virtual event calendar for the month of June. We all want to stay connected during this time of social distancing, so here are some fun ways to do so. You must RSVP in order to attend and receive the Zoom links (The Smithsonian event has its own RSVP Form).
Should you have any questions or require assistance, please email Newyork@bestbuddies.org.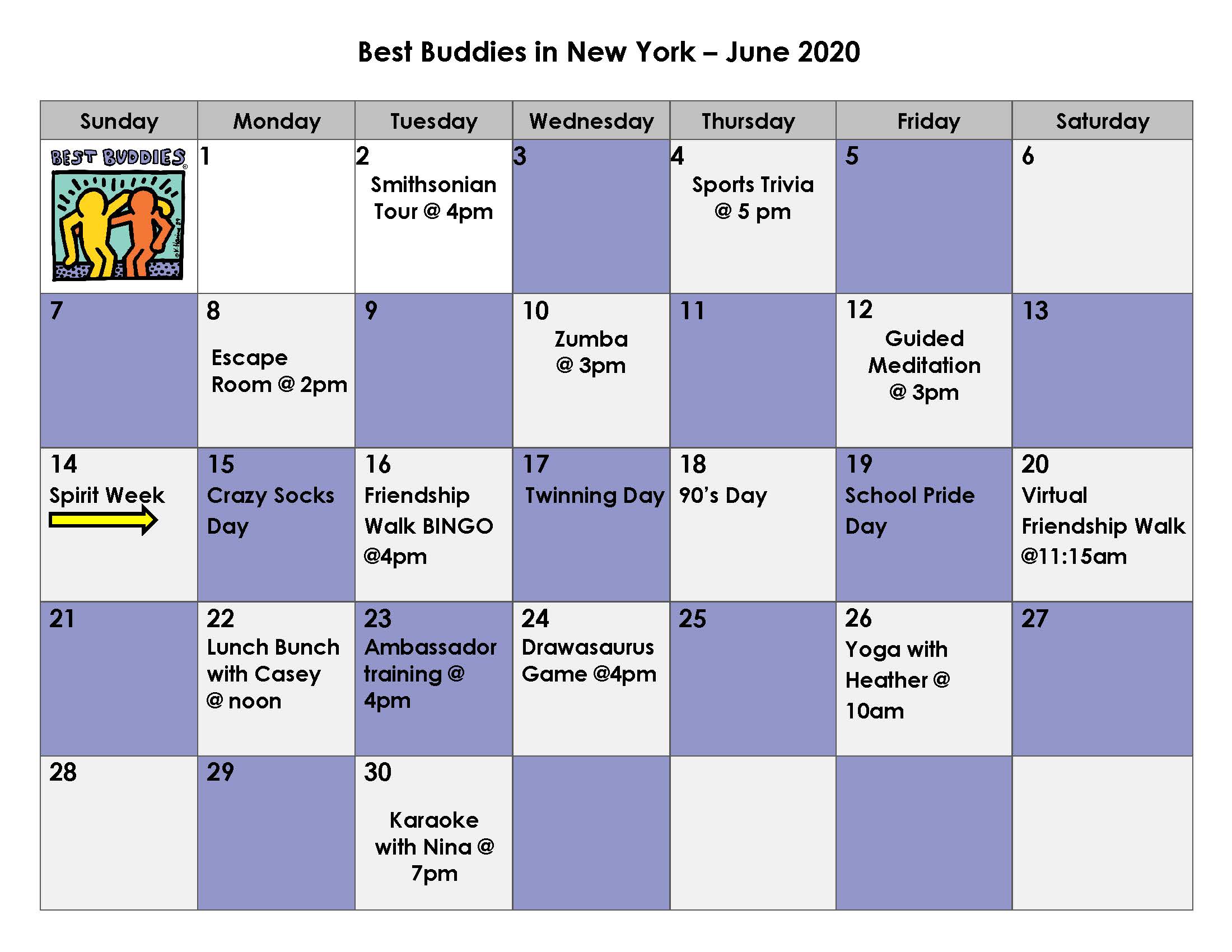 June 2nd: Private Smithsonian Tour @ 4 PM
All attendees must register here: RSVP NOW
Virtual Workshop for Students – The Smithsonian National Museum of Natural History's "Hall of Fossils" Tour Ages 8+. Travel millions of years to the past without leaving your home. In this workshop, students ages 8+ are transported to the Smithsonian National Museum of Natural History right from their web browser using 360-degree interactive imagery. By the end of the workshop, students will have explored the Smithsonian's famous "Hall of Fossils" in 360-degrees virtually, Learned about natural history in the Jurassic age , and completed a fun virtual discovery hunt throughout the museum!
*Please RSVP to register each attendee for the event. The teacher will provide the link before the beginning of the workshop. On the day of the event please click the link and you will be directed to Microsoft Teams where we will host the workshop. Teams is our communication and collaboration platform for chat and video meetings. You can download the Desktop app or access the meeting through your web browser.
June 4th: Sports Trivia Night with Nina @ 5 pm
Study up on your Sports knowledge and join Nina on Zoom for a virtual trivia night Thursday, June 4th from 5-6 pm!
June 8th: Escape room with Maddie@ 2 pm
Join Maddie for a virtual escape room!
June 10th: Zumba with Jeannie @ 3 pm
Join Jeannie as she leads us in a fun Zumba class with others from New Hampshire!
June 12th: Guided meditation @ 3 pm
Let's get ready for the Weekend by relaxing and taking some deep breathes with a guided meditation Hosted by Kelly.
Friendship Walk Spirit Week
June 15th: Crazy Socks Day
Wear your craziest pair of socks and be sure to share on your social media!
June 16th: Virtual BINGO with Maddie 3-4 pm
Join Maddie for a Friendship Walk themed game of virtual BINGO!
June 17th: Twinning Day
Find someone to dress the same as, maybe it's your buddy, a sibling, or friend! Share your pictures online.
June 18th: 90's Day
Show us your favorite 90's look on social media!
June 19th: School Pride Day
Represent your school by wearing your school's gear. Don't have anything with your school's name on it? That's ok, wear your school colors instead! Be sure to share it on social media!
June 20th: Virtual Friendship Walk @ 11:15 AM EST
Visit Best Buddies New York's Facebook page for Opening Ceremonies, as we highlight the top fundraising, corporate, and school teams. We will also share some great local content about our Best Buddies efforts. Then, at 11: 15 AM EST, head to the Best Buddies International Facebook page or Instagram account and join Anthony Kennedy Shriver, a handful of celebrities, participants, and supporters from all over the world as we virtually walk for acceptance, inclusion, and FRIENDSHIP! This online experience will showcase the Best Buddies mission first hand – creating a better world for people with intellectual and developmental disabilities!
June 22nd: Lunch Bunch @ Noon
Grab your lunch and Join Casey for a time to get to know each other.
June 24: Drawasaurus Game with Casey @ 4 pm
Join Casey for a fun game of Drawasaurus.
June 26th: Yoga with Heather @ 10 am
Join Heather and start your day off right with a relaxing yoga flow!
June 30th: Karaoke Night @ 7 pm
Get your singing voice ready for Karaoke with Nina.