Best Buddies Expansion
Welcome New Chapters!
We're excited to welcome Washington & Lee University as our newest Friendship Chapter! Started by two Best Buddies high school alumni, they are eager to spread inclusion to the Lexington, VA Community. We also welcome Elizabeth Davis Middle School in Chesterfield to join Best Buddies. After hearing about Best Buddies through a friend an 8th grader contacted their principal to see if they could start their own Best Buddies club.
We love to see students of all ages taking charge and leading their school in inclusion. Are you at a college or school without a Best Buddies chapter? We are happy to work with anyone interested in starting one! To learn how you can bring inclusion to your community or school, contact haleyminter@bestbuddies.org.
School Friendship Programs

We are ready for 2021!
Our school chapters are gearing up for the Spring Friendship Walk and to start walking, getting fit, and fundraising!
However, there's something special about this Friendship Walk for our chapters! The #EmpowerInclusion Video Challenge is encouraging our students to be as creative as possible in making a short video on what Best Buddies means to them and expectations are high for Best Buddies VA & DC chapters to deliver amazing content!
Best Buddies Citizens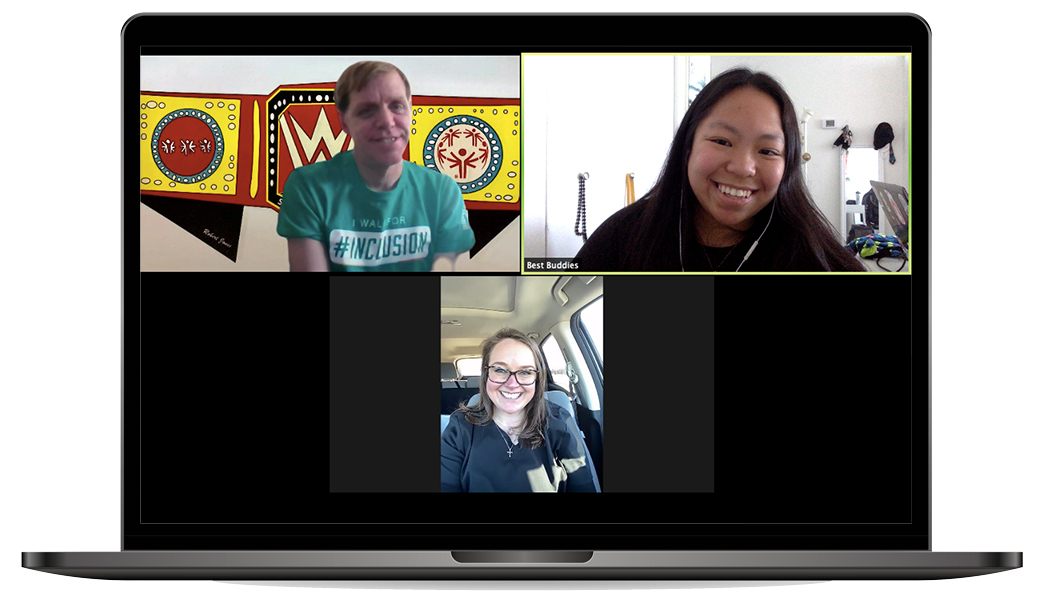 Our Citizens program continues to grow and flourish!
Being virtual doesn't mean that friendship has to stop – we are looking forward to connecting with more new friends this year.
We kicked off our year with a Citizens Event: a virtual escape room and cocktails/mocktails! If you missed it – never fear – each month we have a new slate of programs for you. February events include TasteBUDS virtual cooking class, Ariana Grande themed virtual dance class, Love Yourself Yoga, and more! Check out our events calendar at www.bestbuddies.org/vadc/events.
To learn more about our Citizens program, click here.
Upcoming Citizens Event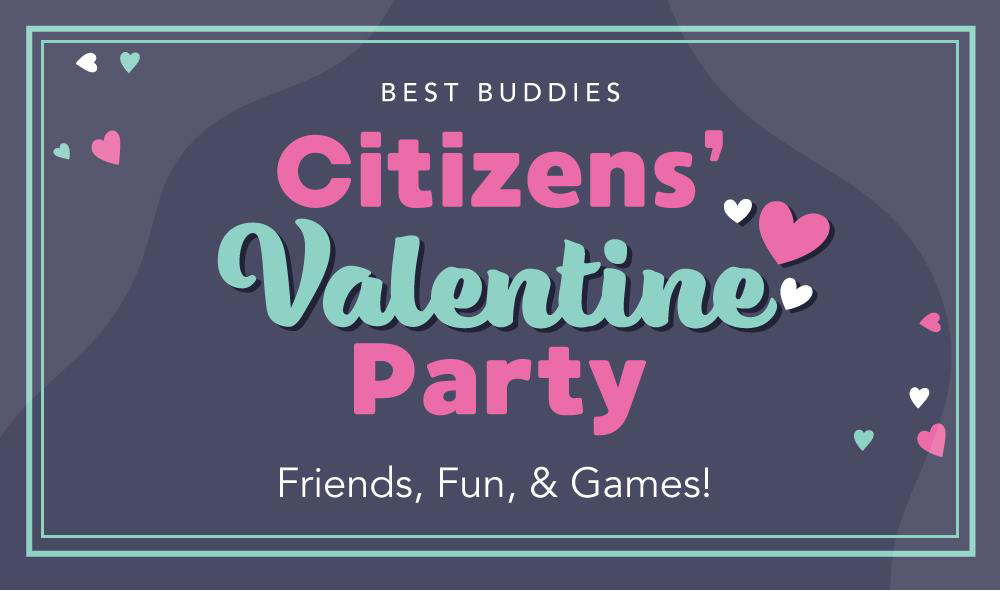 Citizens' Valentine Day
Saturday, February 27th
12:00 pm ET on Zoom
We have another Citizens event in February and yes, it is for Valentine's Day! Join us on February 27th at 12 pm EST for an afternoon of exciting Valentine fun! We hope to see you there! The event will take place on Zoom; please register to receive the link.
Jobs Program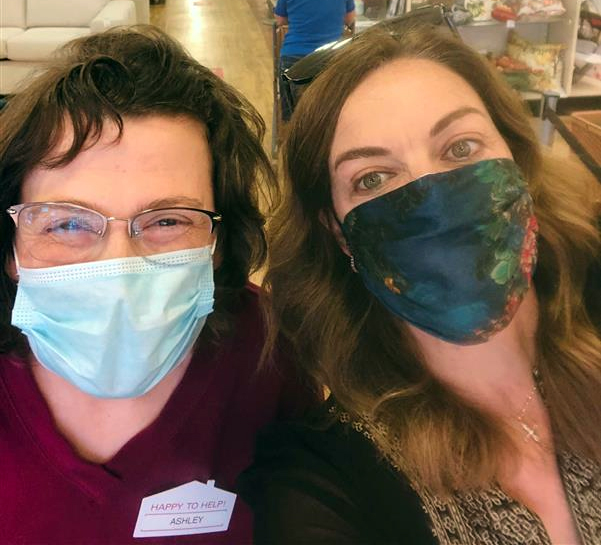 This is our superstar, Ashley!
Last March, she was laid off from her job of three years when the company she worked for went out of business due to the pandemic. Ashley felt really low and sad with no employment. However, she didn't give up and worked with Best Buddies Jobs to shine up her resume and practice her interview skills and was soon offered a new position with a new company. Being employed again gave her a new outlook on life! Ashley said she loves being back at work. Her favorite responsibility at her retail job is "flowing tanks" – taking items from the backroom and putting them on the shelves. She especially loves the people she works with and feels like a part of the team. She said:
"Every morning when I walk in, the team says things like 'good morning' and 'we are happy to see you' and it makes me feel really good."
We all admire Ashley and her courage to start a new career in the middle of Covid.
Congratulations on all your hard work and success!
Also, our employers don't just give our Jobs participants opportunities in the workforce – they support Best Buddies Virginia & DC in so many ways, including participating in our Virtual Friendship Walk!
A special Best Buddies cheer to Team TCMA – our FIRST employer team to sign up in 2021! Now is the time to form a team and have fun while doing good for Best Buddies!

If you have any questions about our Jobs program, email Amy Colucci at amycolucci@bestbuddies.org.
Best Buddies Living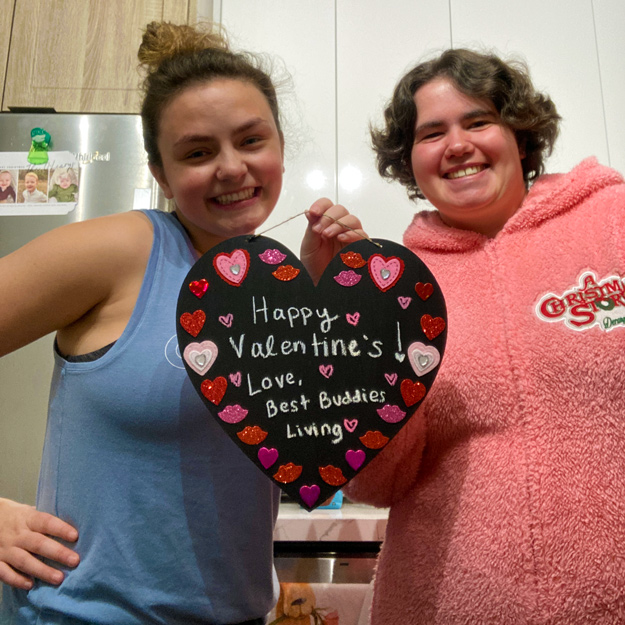 Best Buddies Living has had a great start to 2021!
This month, Best Buddies Living is focusing on giving back! For our group meals, we are trying to support local DC businesses. We have also started volunteering with the Father McKenna Center as a food pantry volunteer. Our residents are able to "grocery shop" for those facing food insecurity in the DC area. Additionally, we are making and delivering 70 Valentines to the Father McKenna Center for them to distribute to the population they serve. It has been awesome to give back to this community we love so much.
This month, we are also looking forward to watching the Superbowl together, hiking at Theodore Roosevelt Island, and participating in a self-love yoga class.
We are looking forward to continuing to grow our program in 2021. Do you know someone with IDD who is looking for housing? Do you know a person without IDD who is going to college nearby or working on the hill? We may be the perfect fit. Please reach out to juliamoluf@bestbuddies.org.
Meet our Volunteer Leaders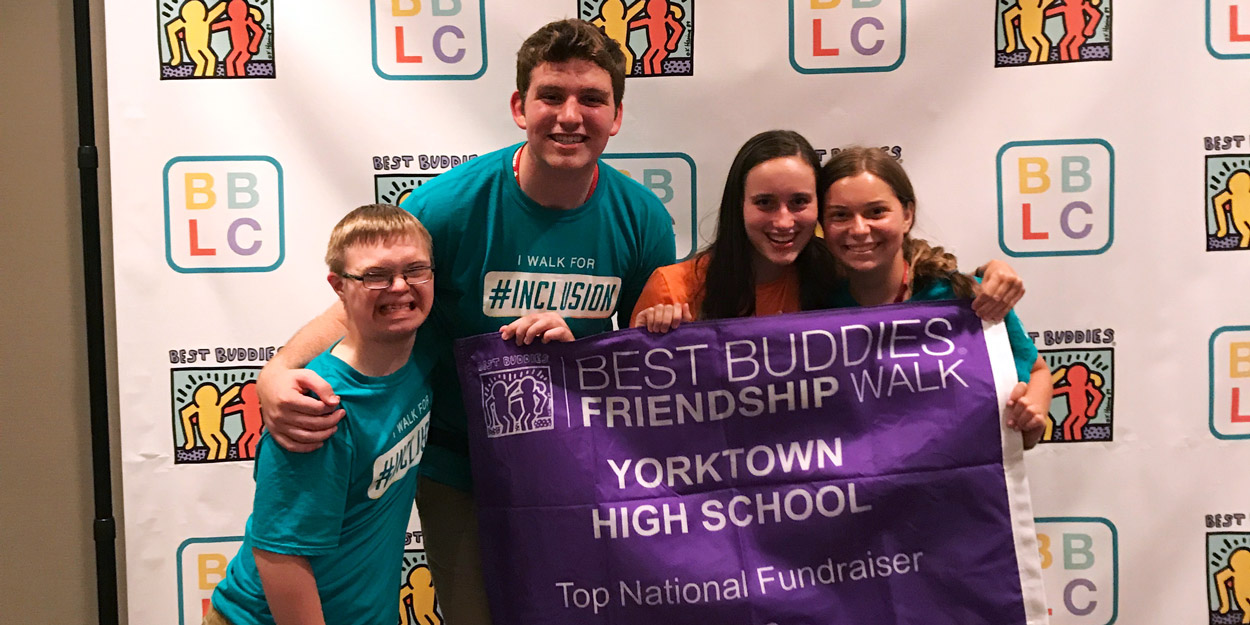 Meet William
Some people may think serving as a board member or on a committee is not for them, but meet William McClennan – a volunteer extraordinaire for Best Buddies VA & DC.
William has been involved with Best Buddies since 7th grade at Williamsburg Middle School when his basketball coach introduced him to the program. Throughout his years at Yorktown High School, he continued enjoying the friendship and camaraderie and took on a leadership role as well. He was such an impressive leader that he was invited to join the Best Buddies VA & DC Advisory Board to serve as a youth voice – and is always admired for his insightful commentary at meetings. William shares:
"Best Buddies creates amazing communities...it is truly a place to be part of a group to make friends and be part of something bigger than yourself... that sense of community I see in so many areas is truly why I continue to stay involved after so many years."
He encourages others to "be part of Best Buddies because if you come to an event and be present, talk to members and be an active participant, you will see what sets Best Buddies apart and why we have a community you just have to join."
William is taking on a new role with Best Buddies, as co-chair of the upcoming Spring 2021 Friendship Walk! He will be joined by his fellow Yorktown HS Best Buddies chapter member, Sofie Dalton and they are sure to light a fire in all our Walk activities. (Will is pictured with Sofie in this photo with their buddies at Leadership Conference.)
Spring Friendship Walk 2021

Saturday, May 1, 2021
In case you missed it, the Virginia & DC Friendship Walk will now be taking place in the spring and we could not be more excited! Things kicked off last month with our Launch Week where we revealed the 2021 t-shirt design and all-new incentive structure. Check them out below!
It is free to register and once you do, you're on your way to making this year your best one yet! Stay tuned for more information to come soon regarding everything we have planning but trust us, you don't want to miss it! For sponsor opportunities and other event inquiries, please contact joannahatch@bestbuddies.org.
Are you interested in getting more involved this year? Then join our Friendship Walk committee! The first meeting will be taking place at the end of this month and we would love for YOU to join us! Contact joannahatch@bestbuddies.org for the meeting information.
Black History Month

Recognizing Leaders & Trailblazers during Black History Month
Be sure to follow @bestbuddiesvadc on social media this month to see our profiles of leaders and trailblazers from past and present with disabilities who are changing our world for the better!
Our Program Manager, Volunteers, Veah, was featured on Real.Fun.DC. to share the Black men and women with disabilities who have made significant contributions to our community. Check out her appearance on Instagram/Facebook/Twitter!
Stay Connected

Don't forget to follow us on our social media platforms to stay updated on our upcoming events and announcements!