Meet Sherri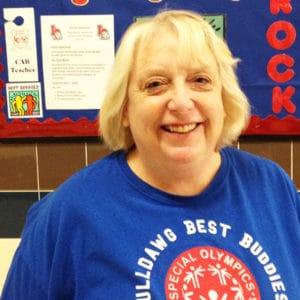 Volunteering to Bring Buddies Together
By Daily Point of Light
The last thing Sherri Nolan wants for any of her special education students is for them to feel like the "other" – the outsider who doesn't fit in at school, who is teased or in any way made to feel less "normal" than everybody else. Which is why she's club sponsor for the Las Cruces High School Best Buddies Club. A chapter of the national Best Buddies organization, this club matches regular education students with special needs students, fostering sharing, fun, empathy and activities, breaking down barriers in the process. Sherri, an involved educator who also works with the National Education Association both locally and at the state level and Read Across America, works tirelessly to support the high school group, letting the kids take the lead and offering guidance as needed. Her reward? Seeing relationships blossom that would otherwise never exist, relationships that are a powerful force for good for all of the students involved, no matter their intellectual or developmental status.
WHAT INSPIRES YOU TO VOLUNTEER?
My special education students and their peer buddies inspire me to volunteer. All of my students are intellectually challenged and some have other disabilities such as autism and are language impaired. It is difficult for them to form relationships at school. Our Las Cruces High School Bulldawg Best Buddies Club encourages diversity-inclusion-acceptance throughout our community and school. Best Buddies International, which our club is associated with, is the world's largest organization dedicated to ending the social, physical and economic isolation of people with Intellectual Developmental Disabilities, among other disabilities. Through this club, my students are able to form meaningful friendships with their peers and feel valued by our school and society. Having the opportunity to watch and help put these dynamics in motion is beyond amazing.
READ MORE