Meet David and Aleah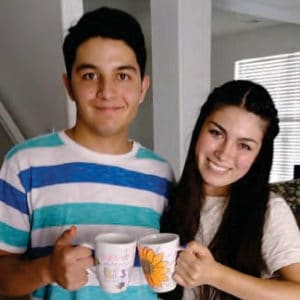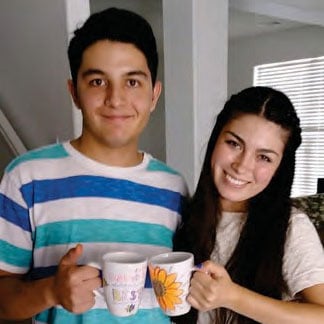 One-to-One Friendship
David: I'm glad I met Aleah through Best Buddies because she hangs out with me. She makes the time for me even after graduating from Rio Rancho High School, going to college and working. We have done some fun things together, like baking cookies, going to the movies, hanging out at my house, going out to eat, going ice skating and going to some dances. Aleah calls and texts me often and is very nice and polite. I'm excited when I see her because she is a great friend. She supports me in my sports activities by watching me compete when she can. I enjoy hanging out with her and happy we met because we're best friends.
Having Aleah as David's buddy, now one of his best friends, has been a positive experience for our whole family. She helps bring out the best in David and gives him a positive peer model to emulate.
-Aaron and Michelle Fillip, David's Parents
Aleah: David has grown to become my best friend. Best Buddies has matched me with someone that makes me laugh and is so caring. Every day we would meet before school and he would shake my hand and ask me how my morning went. Our talks started small at frst, he was nervous and stuttered. Slowly we found our interest: Disney! We listened to Disney music every car ride and have plans to watch all the upcoming Disney movies.
David has taught me how to have a proper handshake, bake cheesecake, and facts about scary movies. Throughout our friendship we have only grown to become closer. I have been there for all of David's wins. I have seen him earn a gold medal for state Special Olympics and he has been there for me. Cheering me on for the school musical and my graduation. Together we even placed 3rd for Best Buddies Pair at our frst Friendship Ball. Wearing the sash was such a special moment. Being a model for other pairs is something I will always cherish. I love being David's friend and I can't wait for all the memories we will make in the future.