Best Buddies Jobs: Garrett Duke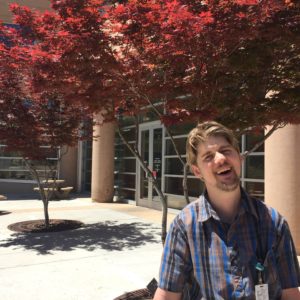 My name is Garrett Duke. During my freshman and sophomore years of high school, I was involved in the friendship program of Best Buddies. I thought it was a good program. After I graduated high school in 2014, I enrolled in APS Transition Services. I worked a lot on resumes, interviewing and I did some volunteer work at a community center, but I did not have much success finding a job. In 2015, I was referred by my Transition Services teacher to join the Project SEARCH program because it was a good fit for me and it would give me the skills I needed to be able to get a job.
Project SEARCH is a program where Albuquerque Public Schools partners with Best Buddies and an employer to create internships and job skills training for students with disabilities.  I enrolled in Project SEARCH in August 2015 at the University of New Mexico Hospital where I learned a lot of skills such as interviewing, writing resumes, professional communication, co-workers, budgeting, and more. I completed one ten-week internship in the health care training center, the BATCAVE, which stands for Basic Advanced Trauma Computer Assisting Virtual Education. I learned skills from inventory, organization, tracking equipment using spreadsheets, registering customers for educational classes, set and break down of classes, maintenance of the simulation equipment and much more.
After six months of being in Project SEARCH I was offered a job in the BATCAVE. The team really wanted me to work with them, so they created a position and made it happen. I worked with Best Buddies Jobs to determine my career interests and develop jobs skills to help get a job. Best Buddies Jobs helped me get the job and has supported me along the way during the internship and after getting a job.
I like to work with technology and computers, so this job is a great fit for me. I like working with the simulators because they are cool and can do a lot of different things that a human can do such as blinking, coughing, and moaning to name a few. They are a great learning tool and help many different kinds of people learn about different medical processes and procedures.
I have learned and developed so many skills since I became employed with the hospital such as customer service, organizational skills, how to maintain inventory, computer skills, equipment maintenance, and time management.
After getting a job, life improved a lot for me. I feel I have a purpose and I have something to do and a place to go every day. It is meaningful to have a job because it is so hard to find a job whether or not you have disabilities, and I feel like I am making a difference an impact on the world.