Meet Shannon and Alka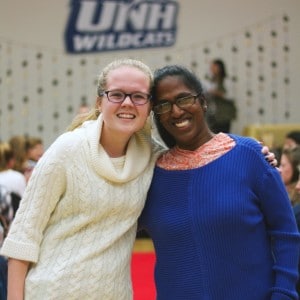 Alka and I were matched in a Best Buddies friendship two years ago and have been great friends ever since! We love attending Best Buddies UNH events together which have included UNH football and hockey games, talent shows, and dances.
One of our favorite events was the Best Buddies UNH Fashion Show, where we got to walk the runway with the other buddy pairs and got cheered on by our UNH community. Receiving so much support from family, friends, and the community certainly made it a night to remember!
When Alka and I aren't attending Best Buddies events, we love making movies together. We've recorded Best Buddies events, edited the clips, and voiced over the scenes with commentary. Alka says, "I was nervous to use the microphone and thought I would mess up. Now practicing with Shannon, I like to make movies with my other friends and watch them!" Making movies together has been an opportunity for us to spend quality time with each other and learn new skills.
We are both so grateful to Best Buddies for bringing us together! Our friendship has allowed us to learn from each other's perspectives and advocate for inclusiveness in our community. We have shared so many laughs and good times over the past two years and look forward to sharing much more in the future.