Citizen Match: Sandy and Sarra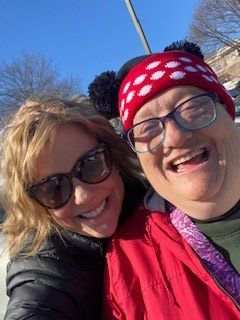 I met Sandy St. Onge at our Kickoff Party for our newly launched Citizens Program. We were so excited to bring this program to NH because it matches adults with IDD with a typical peer in the community! Adults with IDD often find themselves very isolated and lonely and we often received calls in our office from family members wanting resources for their adult family member with IDD. I will never forget meeting Sandy for the first time. Her smile just lit up the room, and her laugh…..oh, her laugh! You just have to smile around Sandy. Now, as the State Director for Best Buddies in New Hampshire, I was not at the kickoff to find myself a buddy. However, once I started talking to Sandy, I almost immediately asked her, "Will you be my buddy?" Thankfully, she said yes.
Working for Best Buddies is a gift. But it IS still a job and being matched with Sandy reminds me of WHY I love my job and WHY what we do is so important. Sometimes we all need reminders. Sandy loves to go to coffee with me and she always insists on buying. Since COVID hit our world, it has been more of a challenge to see one another, but we are doing it! She is a swimmer in Special Olympics, so she loves to come to swim in my pool with my kids. She is a great bowler and always beats me. We have been to dances together and dinners. There is really nothing she and I can't do together. If I am in a bad mood or had a long hard day and I see Sandy, all my troubles are forgotten. She has a magical way of making you see the best in everything, and the laughter is constant. We just laugh and laugh and laugh.
Sandy lives on her own with her Aunt and is very independent. She has a full life surrounded by others who adore her. Her sister Denice St. Onge is her legal guardian, and they spend a lot of time together. Denise said, "It was meant to be that we met Sarra at the Kickoff at Tuckaway Tavern a few years ago. She came at the perfect time for us, and I love sharing Sandy with her. I think there are times Sandy doesn't want to "burden" me, and I am so happy that she has Sarra to vent to during these trying times we live in right now."
I say I am the lucky one, for sure. Thanks for being my buddy, Sandy. You just make life better.
– Sarra Dennehy, State Director for Best Buddies NH