Lucas Roasting's Buddy Blend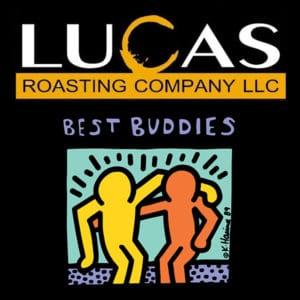 Love coffee? Get your very own bag of "Buddy Blend" made by local owners of Lucas Roasting!
Part of proceeds to go Best Buddies NH!
Get the Buddy Blend
This blend started as a one-day fundraiser blend to raise money for some local friends in Wolfeboro, NH, who were introduced to Best Buddies International in 2016. In the process of its creation, however, and because of their ongoing involvement with Best Buddies in New Hampshire, Lucas Roasting decided to make this coffee available and to donate a portion of each sale to Best Buddies!
This blend is comprised of a dark-roast Brazil and a medium roast Guatemala, and the forward notes are of rich chocolate with a full-body, and as the cup cools the acidity of Guatemala emerges with hints of subtle citrus notes of lime. The overall cup is extremely well-balanced and sweet, and upon its local introduction, we've received nothing but very positive feedback.
Now, besides tasting exceptional, this coffee will be an ongoing fundraising coffee, and a portion of each bag purchased will be donated directly to Best Buddies. Please enjoy this coffee knowing you're contributing to a world of good with its purchase.