How to be a Best Buddy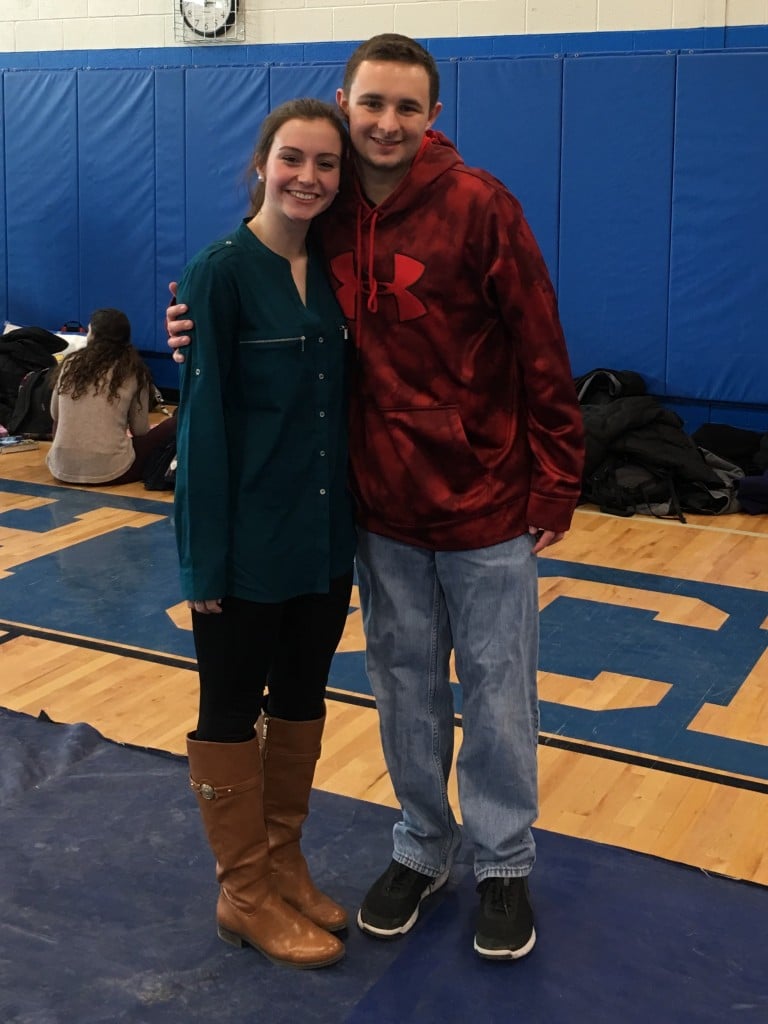 by Julia Coryea   
Friendships tend to start in the most random places. Señora Coffill's Spanish 2 classroom lead me to one of my best friends, Lucia. Who thought two high schoolers would bond so well over the tale of the leaf blower disaster? Well, that's another story…
The first time I spent the day at Lucia's house, I met John. Friendships can be a struggle for many people, but I have had no struggles maintaining a strong bond with John. I still remember that day when he came home from work, telling me a story about a crazy customer who wanted to use a coupon from another store that had expired two years before. My face hurt from laughing so much after talking to him for an hour. But this was a welcome pain, and to have a successful friendship some sacrifices must be made.
One Friday night after my tumbling class, John stopped into my house where we talked and laughed over bowls of ice cream about things happening in our lives. John and I also talked about movies that had been striking our interests lately. The hot new movie at the time was "Finding Dory," so John and I began to watch the film. We were both in a giggly mood, where everything was so much funnier than it actually was, and not much time passed before we were literally rolling on the floor laughing like rabid hyenas. If you're not having fun with your friends, then why are you even friends? John never fails to remind me that friendships are a good time.
My other friend was having a fundraiser at Margaritas, so I invited a bunch of friends to go out on a Friday night. Lucia and John were both included on the invite, but John wasn't able to go because he had work. John replied with the unfortunate news, but he also said he would send some money and his order in with his sister so he would still be able to support my friend. Most people would have just said they wouldn't be able to go, and then just let it go. However, John has this fervent dedication to ones who are close to him, and he will do anything in his power to help his loved ones. This type of loyalty binds us in a friendship that few people are lucky enough to say they have.
Another time, John and I went to breakfast at Mary Anne's Diner. We discussed our plans for the upcoming vacation, funny stories from our childhoods, and Spider-Man YouTube videos. John declared that he was thoroughly pleased with his M&M pancakes. To further describe John, I would say he is attentive, easy- going, and appreciative. Rarely failing to make eye contact with you while you speak, John displays an interest in whatever you have to say. Conversation flows easily between John and me. John also portrays this type of chivalrous and polite character, where he is very appreciative and happy to spend time with you. Being attentative, easy- going, and appreciative and three desirable attributes that help glue friends together in meaningful relationships.
What were you thinking while you read these stories about John and me? You're probably wondering why I'm not writing about my best friend, and why I'm writing about John. The truth is that John and I get along like two peas in a pod, but society would normally have set barriers between our friendship. John has Asperger syndrome – a form of autism. In October last year, we were paired together in our school's chapter of Best Buddies.
Unlike most other organizations, Best Buddies is an organization with a goal of putting itself out of business. This non-profit pairs people with and without intellectual and developmental disabilities (IDD) in a one-to-one friendship. The bonds between these individuals help boost confidence and can be a stimulating source for smiles. Over 900,000 people, both with and without IDD, have benefited from this international program.
Many people misinterpret previous ideas to believe that ALL people with IDD will stay at home with their parents for the remainder of their lives. In reality, Best Buddies provides one- to one friendships, leadership, and integrated employment opportunities. John works a part- time job at Macy's and he will be receiving his high school diploma in June 2018. John is also one of the nicest, dedicated, and entertaining people I know.
To have a successful friendship, both companions need to give and take. Both need to be kind and loyal, but the relationship will be so much more worthwhile if both people are enjoying their time spent together. No matter your age, background, gender, religion, or whatever force trying to divide two companions, true soul mates will find that no hurdles can trip up a friendship that is meant to be.