Meet Michelle DesRochers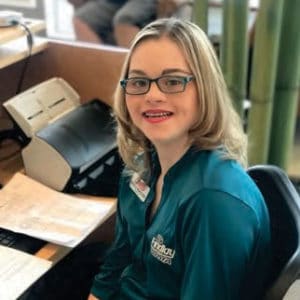 Integrated Development
"My life before joining Best Buddies was very lonely. My phone never rang and I didn't have anyone to hang out with. I was introduced to Best Buddies while attending a postgraduate vocational school. In 2009, someone came to our school and talked about Best Buddies. They were just opening an office here and explained what Best Buddies was all about. My mom attended the meeting and got me involved right away. I became the first Buddy Ambassador from Nevada with the support of Best Buddies! I joined the friendship program and was matched with my Best Buddy Rachel Smith. We were the first friendship match and now the longest buddy match in the state (10+ years)! I love my buddy Rachel and we have so much fun together. "
Michelle started as a Best Buddies Jobs participant working at The Coffee Bean and Tea Leaf in Las Vegas, where she worked for eight years. After mastering her skills there, Michelle decided she was ready to take on a new challenge and wanted to pursue her career goal of working in an offce setting.
Michelle did not have a specifc position in mind and was open to many ideas. It was her willingness to try new things, and her determination, that enabled Michelle to turn her frst interview into her dream job. She applied and was hired at Findlay Toyota as a Business Development Center Assistant, where she greets customers, enters DMV vehicle registration, enters proof of insurance, provides delivery sheets and cash receipts, scans license plates, and makes key tags. In her frst few days on the job, it was evident she had found her new work home. Michelle learned her tasks quickly and mastered them in a short time.
"I feel so much more confdent with this job. I've learned completely different skills, offce skills, while making new friends. The workplace environment is so friendly and I feel like part of the team…The Findlay Family Team!" she said.
After only two months on the job, Michelle was nominated for employee of the quarter. Her contagious smile and attitude has made a difference that was noticed by other employees.
I am so proud to work with Michelle every day. Not only is she very proicient in her job duties, but she is also consistently ready and willing to pitch in, whenever and wherever needed. As an intricate part of our team, she also reminds each of us how simple it is to simply be kind to one another.
–Kay Fisher, Employee Relations Specialist
"Now that I earn a paycheck I see myself being more independent in the future. I'm already paying for more things like my hair and nails. Someday I would like to live semi-independently or get married. I'm a "people person" so I love the customer service part of my job, but I really love learning new skills; it makes me feel like I'm growing" she said, excitedly. "I have my own desk on the showroom floor and use a computer, scanner, printer, and answer customer's questions. I love learning offce skills and they said very soon, they're going to give me more responsibilities! I'm very excited about that!"