Meet Brent and Marley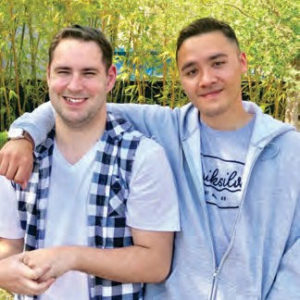 One-to-One Friendship
"My experience with Best Buddies Citizens has been very adventurous! Originally, I was a bit hesitant about making this a commitment. Almost immediately, I was proven wrong in the best way possible. Before I entered Best Buddies, I was in a transition between jobs and knew that this was something I wanted to do, but wasn't sure if it was the right time. My sister had recommended this opportunity to me. She thought my personality and compassionate nature could beneft someone in this program because everyone needs a buddy."
"Brent and I were matched on August 15, 2017. From the start, Brent and I got along very well. It was easy to connect with his artistic personality and his family. To my surprise, his parents have also encouraged me and given me great advice. Brent is especially fun because of the variety of his hobbies. He enjoys horror movies, heavy metal music, video games, anime, action movies, animals, boxing and painting. It'd be very diffcult to fnd a dull moment with him because of all his interests. Brent and I usually play video games or go out to the movies. On other occasions, we'll go out to an event or to eat. Brent is a very energetic person that loves to be in the limelight and I'm proud to be that person who can give him that undivided attention."
The most important lesson I learned from Best Buddies is that your simple, undivided attention carries a lot of power. It's a surreal feeling to be able to make such an impact in somebody's life.
The best part is getting to hang out with someone who has no judgement towards others and simply enjoys quality time. With Brent I've learned how to get the most out of every second. Life is too short for dull moments and there's excitement to be found at every opportunity."
Brent loves to watch and make horror movies, play video games, and to go to his boxing classes. Before being matched with Marley, he would do these things alone, or with his parents. He really wanted to meet a friend his age to do these things with. Whether it's going to a haunted house, seeing the latest horror movie, or watching scary clown videos on YouTube, Brent always enjoys his time with Marley. Brent especially loves to go on double dates, to meet Marley's other friends, and when Marley stays to talk to his family. Brent's family is thankful for his new friend.