A Message of Friendship Featuring Jesse & Matt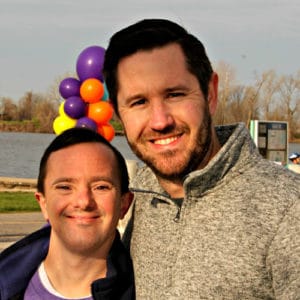 Jesse loves fireworks. On the 4th of July, the night-time skies are filled with them and the booms can be heard from miles away. Five years ago Jesse came out of his room, after hearing the canisters exploding in the distance, and asked his parents to take him to watch the local display. It had been a long day and both of Jesse's parents were tired, but Jesse really wanted to see the fireworks.
So, they hopped in the car and drove to a nearby parking lot to set up chairs and catch the show. Jesse's mom, Jen, recalls what that night was like for them, "Looking around, I saw lots of people, friends, gathered together enjoying an evening of fun. Suddenly my heart seemed to sink within me, as I looked at my 35-year-old son, quietly staring up at the flashing light display in the sky, alone, except for his mom and dad."
Jen remembers feeling so sad and thinking to herself, "No one ever calls Jesse to invite him to watch fireworks. No one ever calls Jesse to invite him anywhere." People all around them were having fun, enjoying friendships, and Jesse was with his parents. Tears rolled down her face and as she ached for Jesse's accepted loneliness.
It was accepted – natural, that Jesse would not be included. No one ever considered to invite Jesse to join a party or thought twice (even once) to ask him to a ballgame when they had an extra ticket, or out for bowling or pizza or just to hang out…like friends do….because he didn't have any friends.
That night Jen called her daughter, Erin, who had worked for Best Buddies Tennessee and asked what she thought about bringing Best Buddies to St. Louis …to Missouri. Erin encouraged her to do it.
Jen composed an email to people she believed would be key in their support of an organization promoting one-to friendships for people with intellectual and developmental and disabilities. The response was overwhelming and, she discovered that Jesse wasn't the only one experiencing isolation. That was the beginning of Best Buddies in Missouri, and a turning point for Jesse, too.
Jesse & Matt met a few years ago at church and there was an instant connection. After hearing Jen recount the story of the 4th of July, Matt reached out to Jen to ask how he could be friends with Jesse. With help from Jesse's family and Best Buddies, Matt & Jesse have become true friends. Real Best Buddies! Matt and Jesse enjoy conversations with each other, watching movies while eating pizza (Jesse's favorite), going to breakfast at First Watch with Matt's wife, Lauren, and including each other in their lives. And, Matt invites Jesse to see fireworks!