2018 Champion of the Year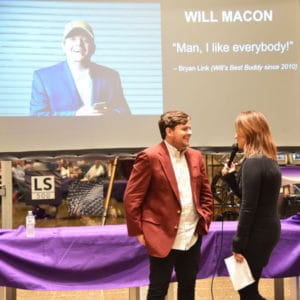 Congratulations Will Macon, who was honored at Mungenast Lexus of St. Louis as the 2018 Best Buddies Missouri Champion of the Year!
Will, a St. Louis native, has been involved with Best Buddies since 2010. He joined the Best Buddies College Friendship Program while a student at Vanderbilt. It was through this organization that Will met his best friend Bryan Link, who shares Will's passion for music, hockey, making other people feel happy and lives with Down syndrome. Best Buddies helped Will and Bryan learn how to break down social barriers and build a solid foundation for their friendship. Today they are respected community leaders showing how friendships made through Best Buddies truly change lives. It is fitting that their friendship, which helped make Best Buddies in Missouri possible nearly three years ago, is what has earned Will the honor of becoming the first Best Buddies Missouri Champion of the Year.
Thank you to all of our amazing Champion candidates: Jud Brooks, Lucas Brown, Anne Conway, Pat Imig, and Will Macon, who helped raise over $55,000 for Best Buddies Missouri!