Meet Wayne Reed: Baker-King Award Recipient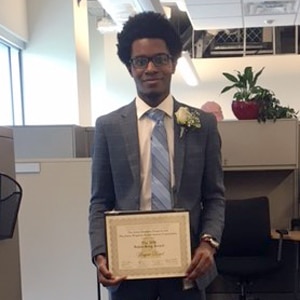 Thanks to what he's learned at Best Buddies, Wayne Reed earns prestigious Johns Hopkins award  
He always displays a positive first impression by greeting all of our visitors in a friendly, warm, polite, professional manner 
Ending the physical, social, and economic isolation for people with intellectual and developmental disabilities — by unleashing a global volunteer movement that creates one-on-one friendships, leadership development, and integrated employment – is the core mission of Best Buddies.
Wayne Reed has benefited from all three of those brand pillars during his time with Best Buddies Maryland. He has been part of the organization's Friendship Program and is now part of the Citizens Program, where he is matched with his buddy, Jordan.
Wayne is also a Best Buddies Ambassador. He has spoken at school events, to companies, and at Best Buddies signature events such as Tastebuds. (This year's Tastebuds event is scheduled for Friday, Nov. 9 at the Grand Lodge of Maryland in Cockeysville, MD.)
Thanks to the self-confidence and social skills he developed through Best Buddies, Wayne has excelled as an employee of Johns Hopkins Health System in Baltimore since October of 2016. Best Buddies' jobs team worked with Wayne on his interview and resume and will provide ongoing support throughout his lifecycle of employment.
This Thursday, Sept. 13, Wayne will be honored with the Baker-King Award. This is an annual award given to John Hopkins Health System employees who demonstrate truly outstanding job performance and act as a positive role model.  Wayne is honored to accept this award and even more excited to be celebrating two years of employment there next month.
"I nominated Wayne for this award due to his unwavering commitment to the effective and efficient operation of our receptionist area because he is generally the first person our clients, visitors and future employees interact with upon their arrival to our floor," said Anthony G. Austin, assistant director of Capital Accounting for the Johns Hopkins Health System.
"I always say, your first impression is your last impression," Austin added. "Wayne always displays a positive first impression by greeting all of our visitors in a friendly, warm, polite, professional manner, regardless of their cultural, economic or social status or background."
Thanks to the financial independence of having a job with Johns Hopkins, Wayne was able to save up and move into his own apartment this summer, noted Best Buddies Maryland State Director Vince Fiduccia.
"We are incredibly proud of this young man and the great strides he has made in our program," Fiduccia said. "This is a shining example of how our mission works and how we can change lives.  The next Wayne is looking for that same life-changing opportunity."
Wayne will receive his award during an Employee Service Awards celebration on Thursday, Sept. 13, from noon to 1:30 p.m. in the Thomas B. Turner Auditorium at 720 Rutland Avenue in Baltimore.
For more information about Best Buddies of Maryland, please visit www.bestbuddies.org/maryland
###
ABOUT BEST BUDDIES INTERNATIONAL:
Best Buddies® is a nonprofit 501(c)(3) organization dedicated to establishing a global volunteer movement that creates opportunities for one-to-one friendships, integrated employment and leadership development for people with intellectual and developmental disabilities. Founded in 1989 by Anthony K. Shriver, Best Buddies is a vibrant organization that has grown from one original chapter to nearly 2,500 middle school, high school, and college chapters worldwide. Today, Best Buddies' eight formal programs — middle schools, high schools, colleges, citizens, e-Buddies®, jobs, ambassadors, and promoters — engage participants in each of the 50 states and in 50 countries, positively impacting the lives of more than 1.2 million people with and without disabilities around the world. In many cases, as a result of their involvement with Best Buddies, people with intellectual and developmental disabilities secure rewarding jobs, live on their own, become inspirational leaders, and make lifelong friendships. For more information, please visit www.bestbuddies.org, facebook.com/bestbuddies, or twitter.com/bestbuddies.