June Virtual Activities Calendar
Best Buddies in Massachusetts and Rhode Island invite Best Buddies High School and College chapter members to our monthly virtual activities!
Should you wish to join, please RSVP and you will receive the Zoom link. (Chapter Presidents should also have the link and can share it with you!) Should you have any questions or require assistance, please contact BBMARI@bestbuddies.org.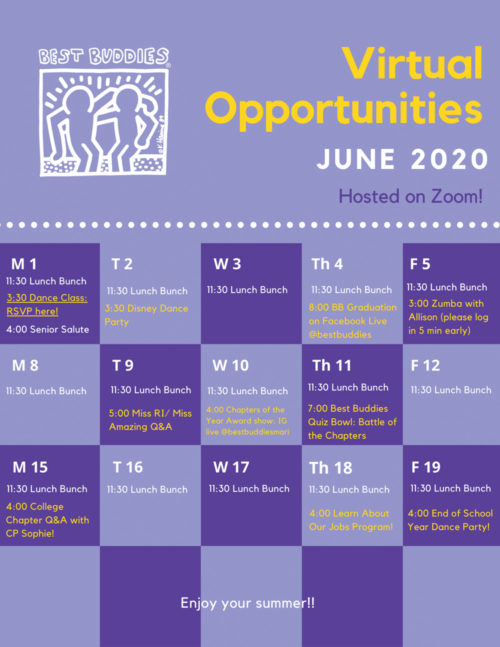 Lunch Bunch is a daily ZOOM lunch group where you can drop-in and -out between 11:30 am and 12:30 pm, Monday through Friday! Come join us for light conversation and lots of laughs!
Virtual Activities like Q&As and Zumba, are at various times throughout the month to hopefully fit into as many schedules as possible.
We will send you the ZOOM room link upon request – your Advisors and Chapter Presidents should also have the link and can share it with you!
Here are some of the exciting things we are offering this month!
Center Stage Dance Academy Class
June 1, 3:30 pm – Join Best Buddies and Center Stage Dance Academy for a special virtual dance class on Monday! No previous experience required and open to students of ALL abilities! Please rsvp HERE!
Recognizing the Class of 2020
June 1, 4:00 pm – BBMARI Salute to Seniors
Join Best Buddies MA and RI in recognizing our local seniors! All high school and college seniors, friends, and loved ones are welcome to join us.
June 4, 8:00 pm – Best Buddies International Commencement Ceremony
Watch on Facebook Live.
Chapter of the Year Awards Show
June 10, 4:00 pm – With a dramatic flourish, Best Buddies will reveal the Most Outstanding Chapters in MA and RI, recognizing schools at the elementary, middle school, high school, and collegiate levels! Watch on Instagram Live at @bestbuddiesMARI.
Quiz Bowl: Battle of the Chapters
June 11, 7:00 pm – Wrack your brains for the answers to modern pop culture stumpers! We want to see as many student participants as possible – the winner of this Quiz Bowl will win a social media takeover day! RSVP to this event by messaging Mike Sullivan at MikeSullivan@bestbuddies.org.
Q&A Sessions with Special Guests!
June 9, 5:00 pm – Miss Rhode Island and Miss Amazing will discuss the art of pageantry and their experiences as 2020 titleholders!
June 15, 4:00 pm – Sophie, Bridgewater State University Chapter President and longtime Best Buddies participant, will talk about the differences between high school and college Best Buddies chapters, and discuss inclusion in higher education!
June 18, 4:00 pm – Members of the Best Buddies Jobs program will explain our integrated employment program and the process to get hired. This is also a great time to ask about how to find work as a Best Buddies alumni!