A Message from Staff
Now More Than Ever
During these past few weeks spent under the social distancing mandate, we all have felt the strain of maintaining relationships, finding hobbies to occupy our time, and learning how to navigate a new sense of loneliness. The truth is that for many people with intellectual and developmental disabilities this is an everyday reality year-round. Now more than ever, while we yearn for connection it is incredibly important to remember our friends with disabilities.
Here at Best Buddies in Massachusetts and Rhode Island, we've been hard at work to find creative ways to keep our participants engaged. Keep reading to see how we've been making a difference in the community during this difficult time.
Jobs Program Goes Remote
At BBMARI we have the privilege to serve 140 Jobs program participants. Our Jobs program is unique in that each individual works with a job development manager to find a job that fits their specific interests and strengths. After securing a job that matches the agreed-upon criteria, the Jobs participant is paired with a job coach who is there to help make sure that the employee and employer feel supported for the entire time that the participant chooses to stay in our program.
With most of us working from home, our job coaches have come up with creative solutions to continue serving our participants virtually. In a typical week, coaches visit between 10-15 participants a week at their place of work — now they are connecting with everyone multiple times per week via phone, FaceTime, and Zoom. We are helping our participants in job development find and take online courses that will allow them to continue career exploration from the safety of their homes. The Jobs Team has also created a weekly email blast for our participants that are working from home, sharing suggestions on how to maintain safety, health, and professional development during this time.
If you have any questions about our Jobs Program contact Rebekah McPheeters, Director of Jobs in Massachusetts, at RebekahMcPheeters@bestbuddies.org.
Friendship Program Finds New Ways to Connect
Best Buddies Lunch Bunch
Daily at 11:30 am
Zoom
Meeting ID #2419334549
Join Zoom Meeting
Time and again students tell us that one of the starkest representations of how exclusive schools can feel is seen in the cafeteria. For many students with IDD, they eat in a different time slot than their general education peers. While all of our chapters are studying from home our Friendship Team thought there was no better time to put an end to this.
After putting their heads together (virtually of course!) they came up with the Lunch Bunch, a group that connects our students on Zoom daily from 11:30-12:30 to share a meal and some quality time together! The team has also been connecting with students by developing new trainings to help their chapters navigate this tricky time. At the end of the day, their goal is to make sure that social distancing does not mean social isolation.
If you have any questions about our Friendship Program contact Krista Thurstone, Deputy Director of Programs in MA & RI, at KristaThurstone@bestbuddies.org.
Transitions Program Reaches New Students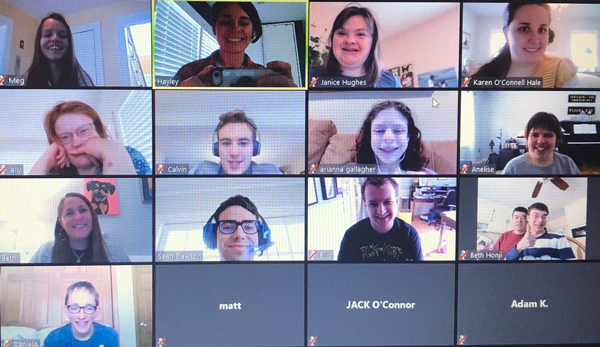 The BBMARI Pre-Employment Services Transitions Program is our newest program as a state. Best Buddies Instructors teach work readiness skills, job exploration, and practice self-advocacy in special education classrooms throughout Massachusetts. In a matter of days, the team was able to convert all of their various lessons into new virtual trainings!
The web-based series is allowing the team to reach a wide range of students from all over the state. Students now have the ability to connect with others who they may have never had the chance to meet before to talk about their job goals. In the coming weeks, the team has exciting virtual interviews and engaging interactive online activities to help their students build their skills from home.
If you have any questions about this program, contact Heidi Kalinowski, Director of the Transitions Program, at HeidiKalinowski@bestbuddies.org.
Although this is such a challenging time all over the world, we are excited to use it as a way to be innovative and advance all BBMARI Programs. The dedication that our participants have shown to continuing to create a more inclusive world is truly awe-inspiring. Please reach out with ways that we can support your students, schools, and companies!
On a final note, we encourage you to take stock of how you have felt over the past few weeks while you have been stuck at home without much in the way of social stimulation. When the world returns to some sense of normalcy when we are all able to go to work every day and catch up with friends in person please remember that for many members of the IDD community that is not the reality. The social isolation that you are feeling now is a constant for many people, but it doesn't have to be. Now more than ever we must act to ensure we are creating a more inclusive world every day.
Stay Safe and Healthy!
In Friendship,
Best Buddies in Massachusetts and Rhode Island