Meet Francesca & Neveah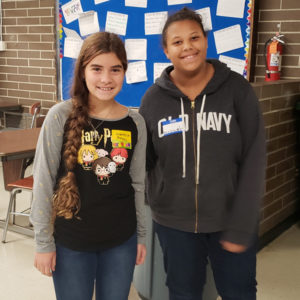 Written by Francesca Balasco, Chapter President at Best Buddies, Western Hills Middle School
When I joined Best Buddies last year I was not matched in a one-to-one friendship. Eventually I became President of our chapter, and thought that because of all the responsibility of being President, maybe being an associate member was for the best. That was until one morning this year, when I got off the bus and took a seat in the cafeteria. I was sitting at a separate table from Neveah, but she was sitting at the table next to me. I was sitting there waiting for the bell to ring, when Neveah waved to me and asked me my name. I couldn't quite hear what she had said, so I politely asked her to repeat herself. Yet again I still couldn't hear over the chatter of over a hundred other kids. Again, I asked 'What?', and she beckoned me over. I dragged my chair over to her table, and she repeated her question. I introduced myself, and she introduced herself. While we were talking, she told me that her birthday was that coming Friday. When the bell eventually rang, I replaced my chair and said goodbye to my new friend. As I walked to my homeroom an idea popped into my head, 'Why not make her a birthday card?'
The week droned on, and I finally found myself on the bus on Friday. I was sitting there when I realized that I had forgotten to make Neveah's birthday card! I went around asking everybody for a piece of paper that I could use but nobody had any. That was when another idea occurred to me in Advisory. I took out my planner, flipped to the 'Notes' section and ripped out a lined page. I used that paper for Neveah's card. When I walked off to lunch, I was over excited to give Neveah something for her birthday. When I got to the cafeteria I looked everywhere for Neveah, but she did not seem to be there. So, I walked over to one of the advisors of our chapter and she led me to Neveah's classroom where they were celebrating. Neveah seemed really excited to receive the card which made me excited as well.
That was when I thought that Neveah and I could be a Buddy Pair.
Days passed on and I sat with Neveah in the morning and at the lunches we had together. Pretty soon it was time to match up some buddy pairs. Sadly, I was a bit late to that meeting, but great matches were still made. As we were getting up to leave, I asked who Neveah was paired with. I was told that she wasn't able to be paired with anyone because she wouldn't have a ride home from any of the meetings. This made me a bit sad, because I knew that Neveah was really excited to be a part of Best Buddies. I still hung out with Neveah as much as I could, because she is a good friend of mine. That was when I thought that Neveah and I could be a Buddy Pair. My mom would be willing to give her a ride home from the meetings and she would feel included.
The next day one of her teachers came up to me and told me that Neveah and I could be a Buddy Pair! From then on, we continued to hang out with each whenever we could, and Neveah was able to make it to the meetings.
Our school recently had a dodgeball tournament, so we were on a team together, which was great because Neveah is much better at dodgeball than I am! From being Buddies with Nevaeh I have learned about the impact Best Buddies has in other people's lives. When Neveah found out that she would have a buddy and be able to go to the meetings, she was really excited. Not only was she excited to be a part of Best Buddies, she was excited to be included.