Evening of Opportunity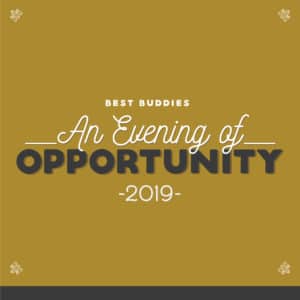 Monday, December 9, 2019
6–9 PM
The State Room
60 State St 33rd Floor
Boston, MA 02109
Event Details
Evening of Opportunity is a fun filled cocktail reception featuring a range of entertainment, annual awards recognition, and a lively auction, all while overlooking unmatched views of Boston Harbor. Join supporters, partners, business leaders, and Best Buddies participants in supporting our mission to empower the special abilities of people with intellectual and developmental disabilities. All of the funds raised through this event will help grow the lives of people with IDD in Massachusetts and Rhode Island by forming meaningful friendships with their peers, securing successful jobs, living independently, improving public speaking, self-advocacy and communication skills, and feeling fully included in society.
Programs
Best Buddies is the world's largest organization dedicated to ending the social, physical and economic isolation of the 200 million people with intellectual and developmental disabilities (IDD). We accomplish this through four major programs: One-to-One Friendships, Integrated Employment, Leadership Development, and Inclusive Living. Please visit www.bestbuddies.org/mari to learn more about how Best Buddies is having an impact in your community.
Support the Mission
Are you an employer open to discussing the benefits of hiring capable Best Buddies participants? Please contact Rebekah McPheeters at 617-778-0522 or RebekahMcpheeters@bestbuddies.org.
Best Buddies MARI creates dynamic partnerships with companies, organizations, foundations, and individuals. From volunteer opportunities providing civic engagement to a variety of sponsorships providing positive brand recognition, we would love to creatively work with you. To discuss opportunities, please contact Patrick Shaughnessy at 617-309-0757 or PatrickShaughnessy@bestbuddies.org.
Registration for this event is now closed.