A Word From Our Chapter Presidents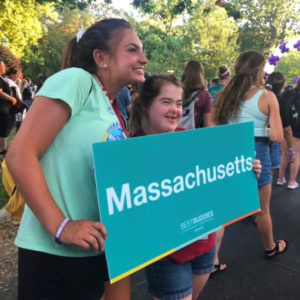 Emma Spiro
Chapter President
Westborough High School, Massachusetts
Hi! My name is Emma and I am Westborough High School's Best Buddies' Chapter President. I realize this is a hard time for clubs and organizations everywhere and certainly Best Buddies chapters are no exception. I want to tell you it's okay that things are not working as smoothly as normal.
But whether we get back to operating as we had before or whether we need to get used to a 'new' normal, continue to believe in your chapter's future! This is a really difficult time in our lives and the impact COVID-19 has had on each of us may change how we interact with each other if it hasn't already. This is especially true for our friends with IDD. Understand too that this can be a time of isolation and loneliness for them.
As Chapter President, I fully appreciate the stress some of you feel as you are tasked with having to switch to an online club format. Let me put your minds at ease by admitting that a seamless transition is unrealistic so please just relax! You have a responsibility, however, to be there for all your friends – those with and without IDD. I suggest you use the Best Buddies Remote Activity newsletter and select a simple activity for your chapter. Start with something easy like sending out a zoom link and gathering your members for a quick check-in. You'll see lots of smiles which can make a huge difference during this time. Even when my chapter's 'Quizlet Live' game didn't go the way we expected, we still enjoyed our time together – giggling nonstop. Since then, we have been able to work together step by step to create more efficient and fun social events. We have made cards with kind messages for a local assisted living, visited a virtual zoo and farm, and streamed an episode of Phineas and Ferb. And while it's easy to get frustrated, caught up in the challenge of using technology, I encourage you to be grateful for the community you've built. So remember that nothing, not even a quarantine, can break the bond you have with your chapter!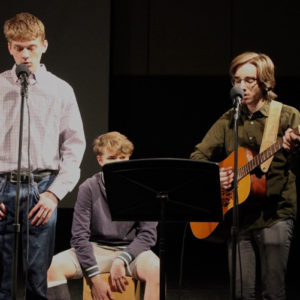 Finn McGillivray
Chapter President
Groton-Dunstable Regional High School
Because Best Buddies has always been fighting to prevent social isolation and alienation while promoting connection, I like to think that, in a way, the quarantine is an obstacle we were specially equipped to handle.
The way in which my buddies have been able to take the ever-changing situation in stride and rise to the challenge of being quarantined has been a testament to this. When our high school first announced that it would be closing I originally questioned if we would be able to maintain any kind of connection with our chapter. Thankfully, the unwavering commitment of my amazing chapter adviser, officers, and members have proved that this notion was wrong. I am so pleased with the ongoing attendance and enthusiasm for our virtual chapter meetings where every Wednesday we have been sharing our experiences and encouraging each other to stay active through weekly activities. Some of our themes have been cooking, drawing, and sharing something blue in honor of autism awareness.
Not only have the meetings allowed us to see our friends' faces, but they have also allowed our amazing Buddies to put on display their resilience, independence, and creativity during this crazy time. In addition to our weekly meetings, our buddies are even finding time to celebrate each other's birthdays. In what was definitely the highlight of my quarantine, more than a few of our members turned out to surprised our buddy Cam with a social distancing drive-by birthday parade with over twenty cars! I'm delighted to say that for our chapter, the mission of inclusion never takes a break, even when the rest of the world seems to.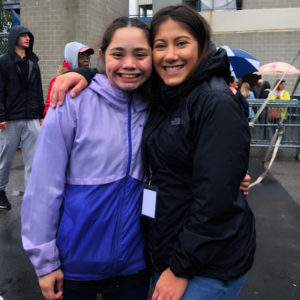 Genesis Aldana
Chapter President
Cranston High School East, Rhode Island
During these difficult times, we are all going through right now is when it most mattered to stay in touch with those who care about you! Although it has been difficult for some in my chapter to adapt connecting virtually, we have all made our greatest efforts to make it work. Along with my buddy director, we have teamed up to make weekly calls with buddy pairs to check-in.
This has reminded everyone of the importance of staying connected to help out one another to stay positive. The board and I have also sent letters to all our chapter members to give some encouragement. Everyone including; peer buddies, buddies, and associate members are facing this conflict in their own way. However, I think the chapter has done a great job looking at the glass half full and having confidence in knowing that greater things are right around the corner. We are all really taking the time to focus on ourselves emotionally, mentally, and physically and set the example for others to not lose hope.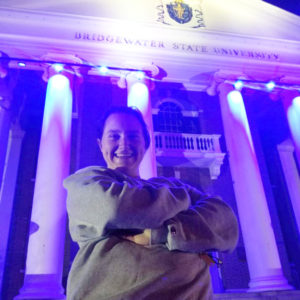 Sophie Scrimgeour
Chapter President
Bridgewater State University
Transitioning to an online virtual forum with a Prom, our Spread the Word to End the Word, and a whole month of activities for our Autism Awareness Acceptance Advocacy Month was certainly not what we had planned for. However, our Best Buddies at Bridgewater State University Chapter is definitely trying to make the best of it!
For an organization whose mission and goal is to end the social isolation for individuals with and without intellectual and developmental disabilities, technology has definitely been our biggest support in continuing our mission while going virtual!
Everyone has struggled, but in our efforts to keep hope and positivity strong, virtual events have certainly helped! We now have bi-weekly Sharpie Me Saturday's where members are invited to color with us while listening to zen music and doing facemasks; weekly chapter meetings via Zoom, where we check-in and have a fun time; and we were able to bring a Virtual Autism Awareness Acceptance Night to life via Facebook Live! Even though our in-person classes and community may now be separate, we are united as one, even more, today and we are able to still able to advocate for our community even if we have to do it from our couches for the time being! We even have a few surprises up our sleeve, watch out for our Pajama Prom!! A huge shout-out to our Public Relations Chair, Christina Schipelliti, and her hard work behind the scenes in keeping members and our community engaged! Stay positive, stay home, and join us virtually!