Meet Austin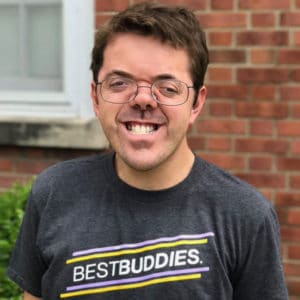 Leadership Development
"I started Best Buddies at Bellarmine University in the fall of 2009. Before joining the chapter, I didn't have a lot of friends. I played videos games by myself and felt secluded. Once I met my buddy Maria, my life changed for the better. Best Buddies brought me my best friends and opportunities that have impacted my life greatly.
My friendship with Maria has grown over the last few years and we consider each other family. My buddy Maria decided to run for chapter president to help the chapter grow more on Bellarmine's campus. After she got the position of President, it inspired me to be the Buddy Director. I also started going to Best Buddies Ambassador Trainings. I feel proud that I speak on Best Buddies behalf at different events and in the community. Maria and I were even selected as the Honorary Buddy Pair for the Champion of the Year event in the fall of 2016. We got to tell our story to over hundred people and it felt good to be listened to and celebrated.
I now work for a nonprofit where I get to use my advocacy skills every day. I have a chance to tell my story and speak about my passions to others. I also use my skills as Buddy Director. I went to the Best Buddies Leadership Conference last summer and learned a lot of good skills to use as Buddy Director. I want to let other people in our chapter know that they are valued and appreciated. I went a long time without feeling needed or wanted. But now with Best Buddies, I feel empowered and important.
I want others to know that Best Buddies is about making real friendships and not judging each other. I have met many people with IDD who don't feel like they've ever really had friends. But after they come our events and hang out with their buddy, they feel better and more included. This is why Best Buddies is important, because everyone deserves to have friends and feel good about themselves."