Leadership Profile: Jessica Campbell, Drake University Chapter President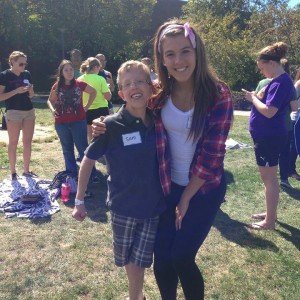 The Drake University Best Buddies chapter is coming into the 2016-2017 school year on a high. The 2015-2016 officer team, of which Jessica Campbell was Vice President, led the chapter admirably, proven by their winning of several accolades at last year's Friendship Walk, including College Chapter of the Year, Chapter President of the Year, and Buddy Pair of the Year.
Jessica Campbell will be the Chapter President this upcoming school year. She is a senior at Drake University majoring in Marketing, who has shown her commitment and passion for the Best Buddies mission through her leadership and standout one-to-one friendship with Ambassador Sam Crowe, a former Roosevelt High School buddy and now participant in the Drake University chapter.
She had this to say about the upcoming year for her notable chapter:
I am very excited to build off what we accomplished last year. We did some great things, and I'm excited to extend the mission of Best Buddies through events that include more community involvement. I also look forward to meeting new members and developing more friendships. A new year is a new opportunity to try something for the first time!
This is definitely a chapter to watch for the 2016-2017 school year!