A Student's Perspective from BBLC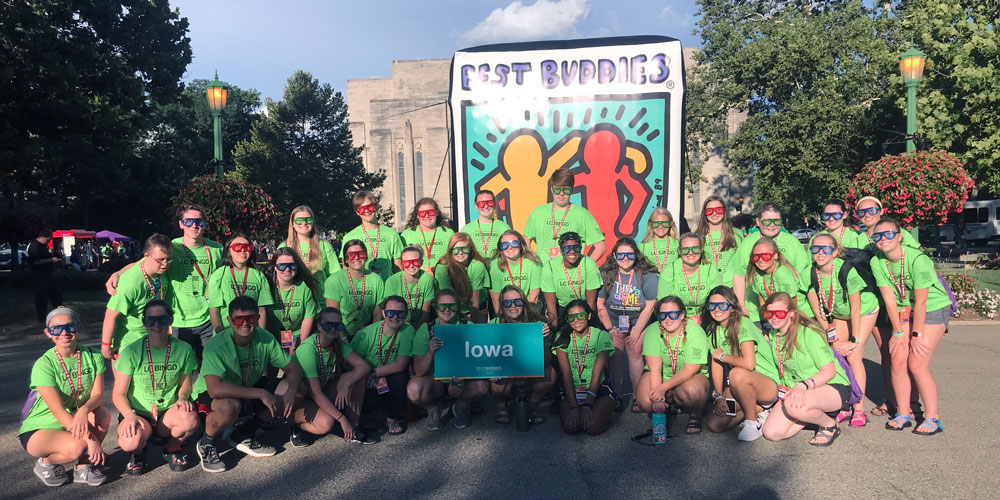 My name is Morgan Flynn and I am a senior at Prairie High School in Cedar Rapids, Iowa. This will be my 3rd year in Best Buddies and it's crazy to think that time has gone so fast. While being in a leadership role for Best Buddies at my high school, I have attended the Best Buddies Leadership Conference at Indiana University twice, once the summer before my junior year and then the summer before my senior year.
People tell you that this experience is life changing and you don't really believe it until you get to immerse yourself in the unique, exciting culture that Best Buddies participants bring from all around the world. Over 2,200 leaders from 50+ countries, all on one campus for the purpose of becoming better leaders and promoting an inclusive environment wherever we are from or wherever we go.
My first year, I was nothing but nervous and a bit skeptical of what was to come in the next weekend I would be in Indiana. It was an eight-hour bus ride with a bunch of complete strangers all who were not from my school or even side of the state.
However, this year was completely different. I had multiple connections from the previous year and 3 other leaders from my school going to take on Indiana with me. This was the beginning of a great year.
The weekend consisted of all things The Greatest Showman (which was awesome!!) There was singing, dancing, pizza ordering, lots of walking, tears, idea sharing and goosebumps galore. Even when we were in educational and training sessions, we all were still having a good time.
"Opening and closing ceremonies were my favorite because you get to see all the love and inclusiveness people share," Liberty High School student Kayli Baldwin said.
Outside of the opening and closing ceremonies, the Friendship Walk and Friendship Festival, we got to learn new things, acquire new ideas and have some fun while doing it. In our educational sessions, we were paired with Missouri to learn more about what student leaders outside of Iowa were doing. Along with pairing up with Missouri, we also got the chance to participate in World Cafe, a session for students from all over the globe to come together and share ideas and promote inclusion.
With all the other leaders from around the world, you never know who you may run into and the ideas they may share. "Talk to someone new every chance you get," said Beatrice Kearns from Iowa City High School.
Best Buddies Leadership Conference, I owe you for all the great memories, knowledge and friendships I have gained and I am forever grateful. Anyone who has the chance to attend should do so no matter how nervous they may feel, it just may be the best decision you make.