Best Buddies Indiana: 2019 Expansion and Fall Recap
The fall semester brought a significant influx of new chapters to Best Buddies Indiana. Since August, 18 new chapters have opened, bringing our 2019 new chapter total to almost 30! We have seen additional growth in southern Indiana with the addition of Seymour High School and Austin High School, and have continued to see momentum build in northern Indiana, with two middle school chapters set to open in 2020. Since 2018, BBIN has also welcomed almost 20 elementary school chapters. Keep checking back for more new chapter updates!
November brought a successful finish to the Champion of the Year initiative, with thirteen candidates and fourteen campaign managers working towards the common goal of promoting inclusion and supporting Best Buddies. At the end of the intense 8-week campaign, candidate Chris Thornton and campaign manager RJ Zeph were crowned Best Buddies Indiana's 2019 Champion of the Year at the BBIN Gala after raising over $32,000 to benefit Best Buddies Indiana. Chris and RJ are both employees of TCC, where RJ is employed through the Best Buddies Jobs program. All-in-all, our 13 candidates and their campaign managers raised almost $250,000!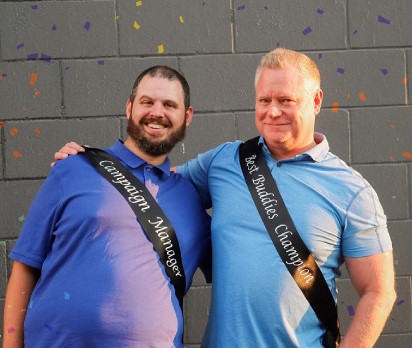 In December, Citizens and Jobs combined for a fun end-of-year holiday celebration at Sun King Brewery. At this event, we also celebrated the four Jobs participants who are graduating from the program, pictured below.
Finally, our chapters have been welcoming the winter season with lots of friendship and fun holiday activities. Below are just a few highlights!