Best Buddies Champion of the Year Gala 2019 Recap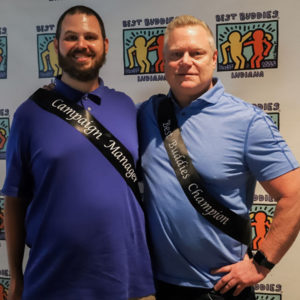 Congratulations to Chris Thornton and his campaign manager, RJ Zeph, our Champion of the Year winners for 2019! Champion of the Year is an eight-week long fundraising competition among people in the community who are committed to raising funds and awareness for Best Buddies. During the eight week period that kicked off on September 12, 2019, twelve champions, along with their campaign managers, competed to see who would raise the most funds for our mission. From letter writing, to dine to donate fundraisers, to art parties and produce sales, these teams did it all!
Our intrepid Champion Candidate Teams were Emma Benner, a Purdue graduate student, with campaign managers Brytani Micklo and Tyler Schrettenberunner; Brian Bondus of ALO Property Group, with campaign manager Caleb DeBoer; Jennifer Ciochina, Teacher at Jerry Ross Elementary in Crown Point, with campaign manager Jeff Zolezzi; Erin Coleman of Capital Group Companies, with campaign manager Pete Steinkamp; Catie Combellick, student at Carmel High School and Miss Indiana Teen USA 2019, with campaign manager Kelsey Rumschlag; Malarie Hensley, teacher at Frankton Jr/Sr High School with campaign manager Jeremy Hicksl; Kammy Hiner, student at Mt. Vernon High School with campaign manager Jeremy Hiner; Zayda Owens, Peer Buddy in the Pendleton Best Buddies Citizens Chapter, with her buddy Brittany Jett as campaign manager; Laci Randel of Roche Diagnostics with her co-worker, employed through the Best Buddies Jobs program, Scott Hicks as campaign manager; Brittany Sutton, who was with the McKinney School of Law, and is now the Director of the Central Indiana chapter of the American Red Cross, with campaign manager Ned Russell-Sullivan; Joslyn Wims, student at Bishop Chatard HS, with campaign manager Matt Burns; and our overall winners – Chris Thornton and RJ Zeph of TCC. The competition ended during our annual Best Buddies Gala at the Indiana Roof Ballroom on November 9th, where the winners were announced. Chris and RJ raised over $32,000 for Best Buddies, and during the entire eight week period leading up to and including the Gala, nearly $250,000 was raised for Best Buddies programs in Indiana. Many thanks to all of our Champions of Inclusion!
At the November 9th Gala, we celebrated the 30th Anniversary of Best Buddies. The evening included drinks, dinner, dancing, silent and live auctions, and the moving mission story of Best Buddies Jobs participant, RJ Zeph, and how he, his coworkers and his employer, TCC, exemplify inclusion in the workplace.
The Champion Gala is one of Best Buddies Signature Events in Indiana, and we are grateful for the generous support of our corporate sponsors who make this sparkling celebration possible. We extend our gratitude to the Capital Group Companies, Anesthesia Consultants of Indianapolis, Northside Anesthesia Services, TCC, Anthem, Goodman Campbell Brain & Spine, Master Jewelers, and to all of the volunteers on our event committee and the advisory board for their amazing support.
View Photos