Meet Scotty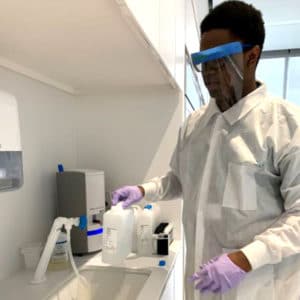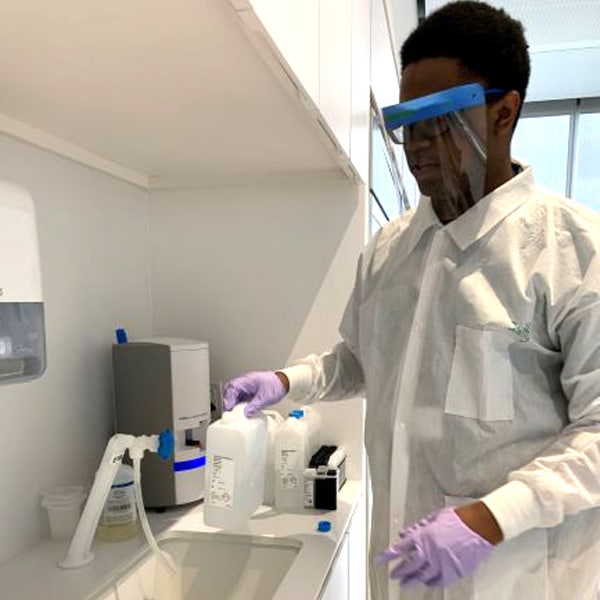 Integrated Employment
In the six weeks since Scotty was hired as a lab assistant at Roche, he has done more than learn the essential functions of his job. Scotty has become part of a terrific team.
According to Roche team leader Staci Pfingsten "…aside from his work, Scotty has brought about the sense of team comradery. It has been great to see the team jump in to help on multiple occasions or "just out and about" more working in our social areas trying to get to know Scotty better or be available if he needs anyone."
Scotty continues to master the varied parts of his job working with his two supervisors Bonny and Korrine who volunteered to develop tasks and training for Scotty. Under their watchful eye, Scotty has grown into his role, gaining confidence by learning his tasks which had previously been performed by the instructors.
Scott is responsible for rinsing reagent containers for recycling, replacing biohazard bins, stocking lab coats and gloves, unpacking deliveries for the lab and then stocking the products in their correct location and rotating the stock and then recycling the packaging materials.
Fridays find Scotty busy setting up classrooms for the following week's client training sessions. After cleaning all of the tables he sets up workspaces for each student with a pad of paper, pen, highlighter, and post it tabs. He then places name cards, sets out instructor materials, cleans the whiteboards (making good use of his over six-foot tall frame) and makes certain the classroom is well stocked with tissues, hand sanitizer, markers, and classroom signs.
Supervisor Korrine recently explained how Scotty taking on this task has impacted her life at work and home, "There would be many times that I couldn't finish that in the work week, so I would come in on the weekend and of course I'd have to drag my family in with me to set up a classroom and spend an hour or so just kind of cleaning up and going to the lab and cleaning up and doing those kinds of things. So it's very impactful, it's giving me family time but it's also giving us nice uniformity in how Roche looks and feels and that's great."
Scotty started his job with a bit of uncertainty as he had only worked in food service prior to Roche. He hoped to fit in and to be able to learn his tasks. Within the first few days, Scotty was comfortable in his surrounding and building relationships with his new coworkers. Jim showed him the fridge where you can often find extra pizza or other snacks that someone has ordered into the office. Bonny and Korrine made certain he knew where to find snacks for his break and everywhere he went in the building people would stop to introduce themselves and welcome him to the team. Scotty recently shared with his job coach "…my favorite part of the job is working with so many people. My number one task is working in the lab rinsing reagent containers for recycling. And I really like stocking the lab coats and gloves too."
When asked if there were any unexpected benefits about bringing Scotty onto the team, Bonny quickly replied "Scotty has brought his youth. We are not as young as he is so to have that younger person around brings you energy. He's also brought comradery. He's a new individual here, we're all interested. So we have groups of people who will be standing around talking to him that maybe would have just said "OK, I need to do this" rather than talking to each other. I think it's brought up little conversation circles that we didn't have before."
This partnership with Roche and Best Buddies has been a home run from day one. The Roche team has embraced Scotty in a way that exemplifies the meaning of inclusive employment. Scotty knows that his work is appreciated and adds value to Roche. His coworkers include him in social situations and actively engage with him on a daily basis.
If you would like to learn more about the Jobs program please contact the Best Buddies office at (317) 436-8440.