Meet Rebecca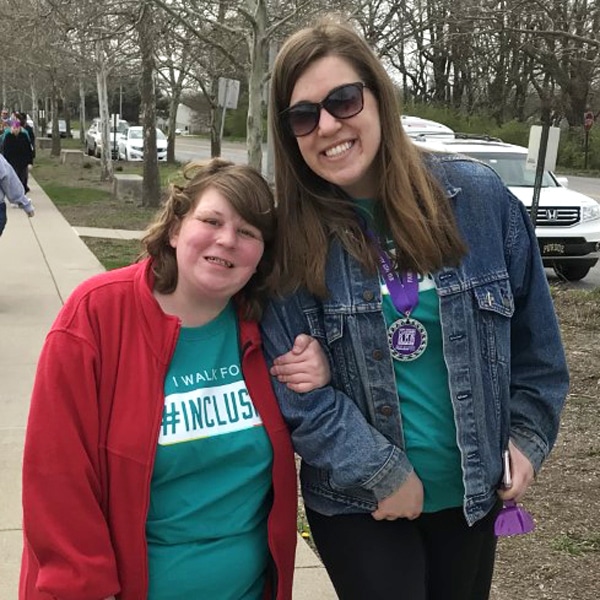 One-to-One Friendship
In 2008, I visited my sister at college and went to my first ever Best Buddies event. There, I found an organization that valued friendship, appreciated a good snack spread, and didn't think twice about a 12-year-old hitting the dance floor at a college event.
So when I started at Butler, I knew Best Buddies would be the place for me. Through Best Buddies, I've met friends that I know will last a lifetime, as well as an incredible leadership team that inspires and challenges me every day. I also met my bestie and buddy Annie, who loves me unconditionally (but probably loves my mom more). Now that Annie and I have been matched for almost four years, I can't imagine my life without her – she's become the perfect addition to my family and groups of friends, loves to crank up the music in my car, and always calls me on my crazy, and I wouldn't have it any other way.
In 2018, I was incredibly proud to be part of the highest college fundraising team and contributed to our team total of over $11,000 dollars towards the Best Buddies mission. This year, I've served as the chapter president of Butler Best Buddies and so appreciate the challenges, rewards, and experiences I have found while developing this small piece of an incredible international organization.
From my first experience as a middle schooler at my sister's event to now as a college senior, Best Buddies has helped me to become a more accepting and open individual, a stronger leader, and a better friend. Best Buddies pushes me to be better, but also always encourages me to take the time to dance with friends. I'm so thankful for all the incredible individuals that I've met through Best Buddies, and only hope that everyone has the chance to find their best self and best buddies. –Rebecca VanVliet, Butler University Best Buddies Chapter President