Meet Matt Burns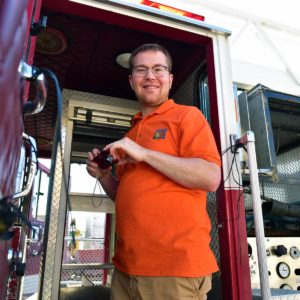 Matt was the trailblazer for the Best Buddies Indiana Jobs program. He joined the staff of the City of Indianapolis in August 2015, working in the human resources office. His early duties consisted of general office tasks that included filing and shredding documents and delivering items from one department to another. As Matt learned his way around the 25 story City-County Building, he made many friends along the way.
With his new friends and acquaintances, Matt expanded his job duties to include assisting the Metropolitan Police Department with parking tickets and sorting overtime pay requests. Matt eventually joined the surplus team where he started by assisting with moving desks, filing cabinets and other large pieces of furniture and equipment to the warehouse where they were stored and sorted for disposal. Many of the items being discarded are sold via an online auction.
Matt's tasks expanded again as he began taking photos of the auction items. A meeting between Matt's supervisor and his Best Buddies jobs coach included a conversation about Matt's obsession with social media. Matt frequently uses Facebook, Instagram, Twitter and Snapchat to stay in touch with his friends and followers. Matt's most notable use of his social media savviness is with the Friendship Walk. Matt has been the top fundraiser for Indiana since 2012, raising over $8,000 for the 2016 Best Buddies Friendship Walk in Indiana.
Once Matt's supervisor Lamont Wilkes learned of Matt's skills, it was decided that Matt's 2017 job goal will be to learn how to set up the auctions each week. Matt is excited about his supervisors' trust placed in his abilities and looks forward to starting his training in 2017. When asked to comment on his work for the City of Indianapolis Matt proudly exclaimed, "I love my job! And I love the people I work with; it's a job where I feel important and successful. I am more independent now."
Matt's parents have seen real changes in their son since he joined the Jobs program. From an increased vocabulary to speaking more clearly, to see him so eager to go to work each day. Matt's mom Vicki sums it up by saying, "Since Matt was placed in a job through the Best Buddies Jobs program he has transformed into a more confident and independent young man. As a parent we want our children to be happy and feel accepted.  And to see it happening is so rewarding. We can't imagine Matt's life without Best Buddies."