Citizen's Program Participants Creates Art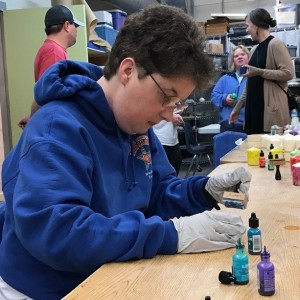 In February, several members of the Citizen's Program met at the ArtMix studios at the Harrison Center for the Arts to participate in a candle decorating project. Led by Jobs Program supervisor and craft aficionado Kim Harvey, fifteen Citizen's Program Participants donned protective gloves and nurtured their inner Impressionist as they inked over 100 gorgeous candles which were used as Sponsor gifts at the 15th Annual Best Buddies Indiana Gala.
Each candle was hand stamped with multiple colors of inks, and then a Best Buddies temporary tattoo was applied as the finishing touch. Each participant was able to take home one candle as a memento of the day candles not distributed to the Gala sponsors will be sold at the Friendship Walk for just $5 each. Look for the Citizen's table under one of the large tents.