Best Buddies Jobs Update: Matt Burns, City of Indianapolis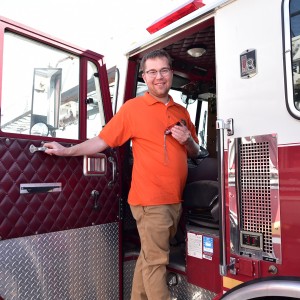 Climbing on a fire truck, cleaning light bars from emergency vehicles, taking photos of commercial cooking stoves, chatting with the Mayor, setting up online auctions, sorting a couple hundred recycled three ring binders, collecting parking ticket fines…these are just some of the tasks Matt Burns may encounter in his job as a clerk with the City of Indianapolis.
Matt is a Best Buddies Jobs program participant in Indiana and has worked downtown at the City-County building for nearly two years. He started working in the Human Resources Department and with the Indianapolis Metropolitan Police Department and has added new tasks and departments along the way.
"Everyone is nice. I have a fun job and get to do many cool things."
Matt started working with the City's Controller's office as an extra set of hands to help move office furniture and equipment to the Surplus warehouse. As Matt's supervisor got to know Matt he learned about his fondness for posting on social media and soon the task of taking photos for the online auctions became part of Matt's job. Early this year it was decided that Matt should learn how to set up the online auctions so his job coach and supervisor worked through the process and created a step by step guide for setting up the site. Matt hopes to be totally self-sufficient with the process by the end of the summer. In the meantime, he gets weekly job coaching and his supervisor double checks the auction posts for accuracy.
Matt enjoys working with the City and has the highest praise for his co-workers. "Everyone is nice. I have a fun job and get to do many cool things."