2018 Best Buddies Leadership Conference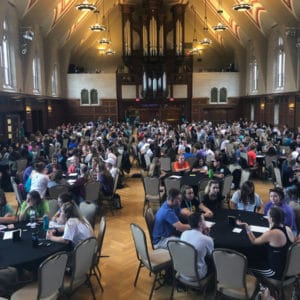 This past weekend, over 2,300 Best Buddies participants from around the globe gathered in Bloomington, Indiana at Indiana University to attend the Best Buddies Leadership Conference (BBLC). BBLC brings together leaders with and without intellectual and developmental disabilities from middle schools, high schools, colleges, and communities worldwide, providing chapter leaders and ambassadors personalized training that develops the leadership skills needed to organize a Best Buddies chapter and share the Best Buddies mission. There is a great balance between leadership development, fun, and motivation for attendees. During the weekend participants attended workshops specific to their program – leadership development for each school level, jobs training, speech writing, and public speaking. One of the wonderful aspects of BBLC is that participants not only get to brainstorm and interact with participants from Indiana but with others from all over the country and the world. Outside of workshops, there were many noteworthy speakers and performers such as Mikayla Holmgren, Rebecca Black, Kechi Okwuchi, Jimmy Page, Gail Williamson, and more. Night time activities included the BBLC Friendship Walk followed by a party in the park including bounce houses and performers on Saturday, then on Sunday was the Friendship Festival that had a DJ, bowling, billiards, movies and karaoke.
Best Buddies Indiana brought over 110 participants to represent our state! Both Hamilton South Eastern High School and Butler University received Outstanding Chapter of the Year awards. Our Friendship Walk co-chairs Evan Parker and Sue Patton had the opportunity to speak on the big stage about how to incentivize fundraising for the Friendship Walk as walk chairs. Afterward, Emma Hart and Peyton Meares, buddy pair from Decatur Central High School, shared their story of friendship and experience in Best Buddies from the past two years and got to introduce our founder Anthony Shriver to the audience. It was exciting to have Indiana represented in these ways and learning how we can all contribute to further our mission of inclusion in our communities.