Meet Lynette Lewis & Jim Lewis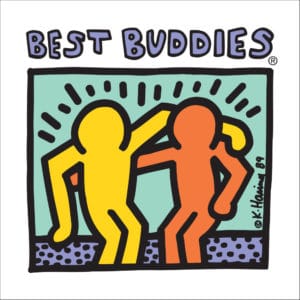 2018 Best Buddies Friendship Walk: Central, Illinois
April 14, 2018
Hi, my name is Lynette Lewis. I am the parent of three boys, and one is on the autism spectrum.
Jim is 17 and has been involved in Best Buddies for four years at Pekin Community High School.
I want to tell you what a profound and positive impact Best Buddies has made on Jim and our entire family.
Jim had a horrendous junior high experience. He literally had just one friend in the entire building. The kids who had befriended him in grade school started pulling away even before they started junior high.
They no longer tolerated his "quirks." Jim is very interested in studying other cultures. People and buildings in faraway lands intrigue him, and his "friends" found this boring.
I tried to encourage him and I promised him that things would eventually improve. As his Mom, my own heart was absolutely broken and I worried so very much about his daily experiences.
High school came.
Almost immediately, through a wonderful teacher, Tim Carroll, we learned about Best Buddies. Best Buddies gave Jim an IMMEDIATE 30-40 friends in school!! He went from wondering who to eat lunch with to planning fun activities with peers.
I still remember his first high school Homecoming. Just 5 months from when he had graduated junior high feeling "worthless and rejected." Those were his words.
We were sitting along the Homecoming parade route. A fire truck slowly rolled by and the Pekin High cheerleading squad was sitting on the truck.
Two young ladies yelled,"Hi Jimmy!!!" One of them said to the other "I love Jimmy so much…he is a "Best Buddy!!"
Jim smiled and waved. Imagine how that moment must have felt to a young man who used to feel "worthless and rejected?"
Imagine how it felt to me…a Mother whose own heart was broken watching her beloved child suffer??
Best Buddies has made a profound difference in the life of my son and I support it 100%!
I am so very excited to see that this year's Best Buddies Friendship Walk will be opening the door to new opportunities for the Best Buddies program in elementary schools, and will continue to support the junior high expansion started last year. I know first-hand how much it is needed and how many lives it can change.
Best Buddies has made a profound difference in the life of my son, and I support it 100%.
There are many more stories that I could tell…but Jim can say it much better than I can.
I'd like to introduce you to my son. He has been a Best Buddy Member for four years, and is Buddy Director and trained Best Buddies Ambassador…Jim Lewis!!
JIM:
Greetings Everyone…I am Jim Lewis. I've been a member of Best Buddies since my first day of high school and I am so excited to be here today!
When I entered high school…I had only one friend. Immediately upon joining Best Buddies, I felt at home and valued.
Just because my time in high school is coming to an end doesn't mean my time in Best Buddies has to. There are opportunities for people of all ages to be a part of Best Buddies and I absolutely want to stay involved.
Thank you all for coming today. You are changing lives. Believe it!